South Bay is the large bay with a fairly narrow opening to the "Big Water" and so it is to Lake Huron what Lake Wolsey is to the North Channel: each "lakelike bays".
Visitors to Manitoulin arriving via the MS Chi Cheemaun at the ferry docks at South Baymouth can look straight up the bay, at least before those with vehicles are summoned to the car deck. They can look up the bay but it's long enough that the northern end, the isthmus dividing the rest of Manitoulin from Wiikwemkoong Unceded Territory, isn't visible on the horizon.
In fact, the lower, southern of Wiikwemkoong's two giant peninsulas is defined by South Bay on its west side and the community at the lower end of this part of Wikkwemkoong is called South Bay.
Visitors aboard the Chi Cheemaun and anglers fishing the plentiful waters of South Bay can see homes and cabins along the Wiikwemkoong side and farms and summer holiday camps on the municipal side that takes in part of both Tehkummah and Assiginack Townships, both of these municipalities' named for important Wiikwemkoong figures who figure in the First Nation's history. (They are the only ones of Manitoulin's municipalities to be named for prominent local Indigenous figures when Manitoulin was surveyed for European settlement after the 1862 Manitoulin Treaty.)
South Baymouth, Manitoulin's ferry town, is the sole town on the large bay, on either side, and the story of how it came by this name is an interesting one.
The community's name had never been formalized since it was founded in the 1870s by commercial fishing families.
It was variously called South Bay (and so caused some confusion with the community of the same name that is part of Wiikwemkoong Unceded Territory,) South Baymouth and South Bay Mouth (which is an accurate description of the place.)
To formalize things, there was a local vote on the issue in the 1960s and the two-word moniker won out: South Baymouth is perhaps not as accurate a description but it does roll nicely off the tongue.
South Baymouth pays homage to the early commercial fisherman and it is still a popular place from which to set out into Lake Huron in search of the fruits of the deep but these days the "fishing fleet" is largely comprised of sturdy boats from which anglers fish deep, using downrigging techniques, to bring their line and bait to the depths where their next meal dwells.
There is a fine small craft harbour just to the south of the ferry dock with, pump out and marine fuel available, in addition to a handy dockside laundromat and sport fishing charter businesses operating from the marina.
The Manitoulin Expositor Salmon Classic is a major attraction for the South Baymouth sports fishing community from the last Saturday in July to noon on the fourth Sunday in August and details for this event can be found on www.fishmanitoulin.com.
The commercial fishing legacy also lives on and often one of the Purvis Fisheries fish tugs can be seen passing in or out of the gap at South Baymouth on its way to set or lift nets.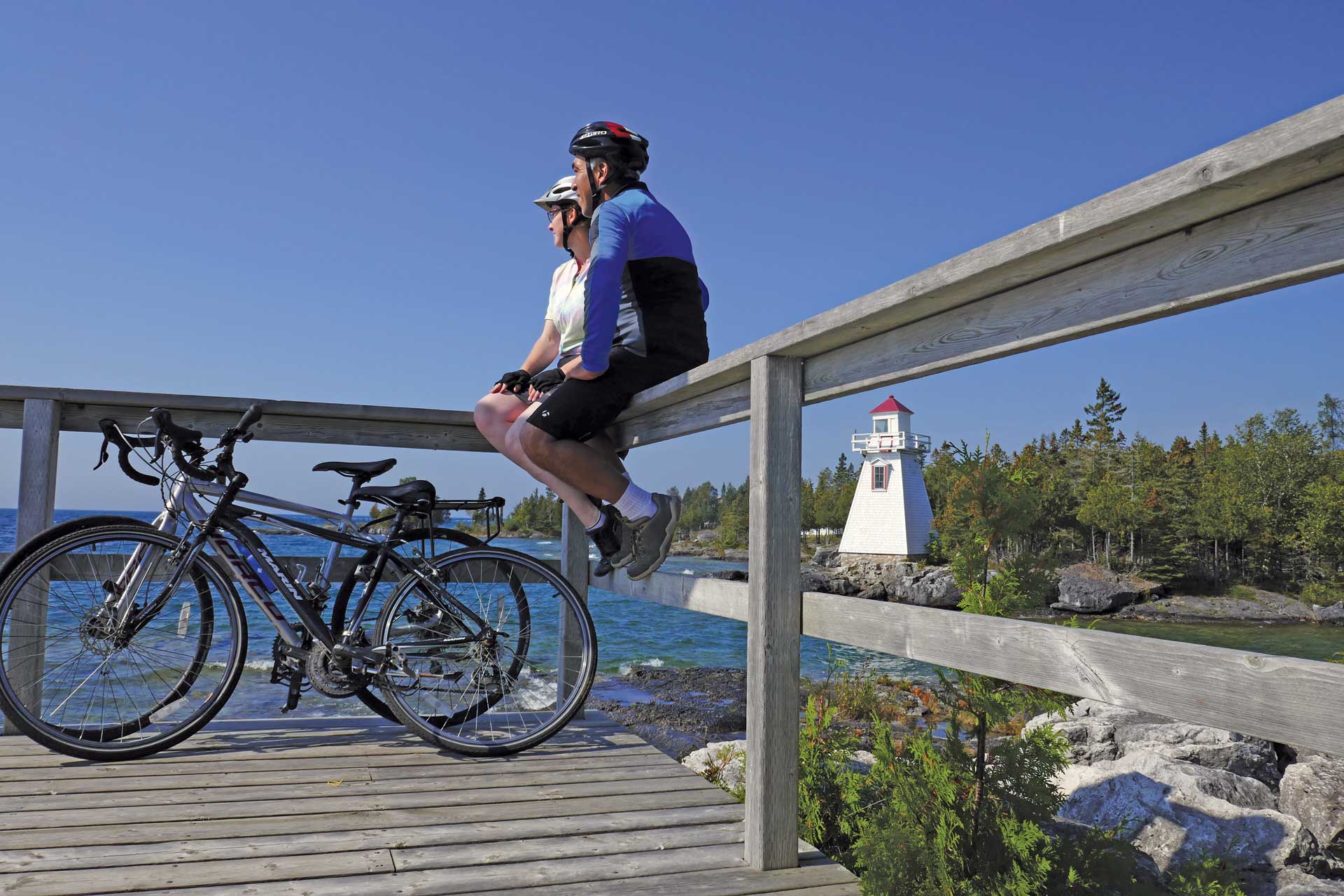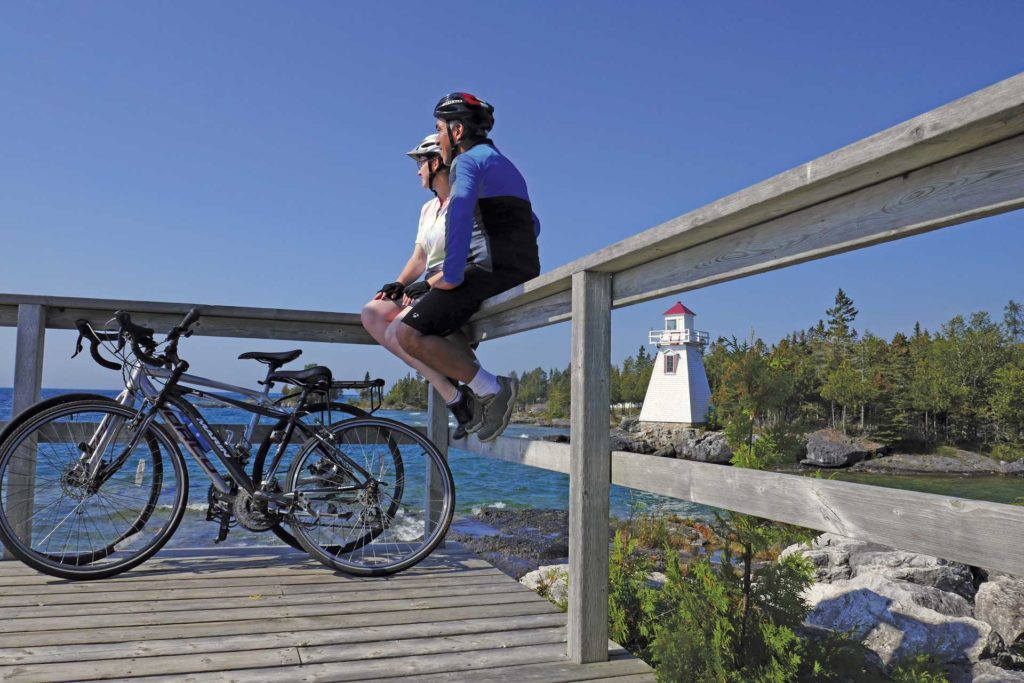 South Baymouth itself is a colourful town with motel and housekeeping cottage options for staying a while in addition to the South Bay Resort campgrounds.
There are galleries, lots of dining options, local fudge and souvenir shops in this proud little town whose museum, just at the waterfront, is called the Red School House Museum and is (partly) located in the last of Manitoulin's one room schools that has been preserved as a 1940s – 1950s era working school.
There is a modern exhibit building located on part of what was the schoolyard where visitors can learn of Tehkummah Township's farming, fishing and military heritage.
A new attraction is the 'flags of our town' that adorn a wide length of garden fencing on Highway 6 in the village, just across from Carl Brown's Store. The people who live there (and produce a significant garden) did some research and found that South Baymouth is home, many of them seasonally, to people whose origins are in the 30 or so countries whose flags they carefully reproduced for this display.
The Old Ontario Department of Lands and Forests (now the Ministry of Natural Resources and Forestry) staffed a busy Great Lakes research station on South Bay, just outside the village, until about 30 years ago when it was deemed surplus to needs and the numerous research buildings and laboratories were torn down and the staff relocated.
Most people involved in the commercial and sports fishing industries in Northern Lake Huron and Georgian Bay believe this was not a useful change; that the research done there was (and still would be) vital to the balance of interests in this Great Lake.
All that remains is the research station's dock on South Bay, often used by a Purvis Fisheries fishing tug.
Nearby places to stay, eat and play
On the Wiikwemkoong side of South Bay, landmarks are a century-old church, Our Lady of Grace Catholic Church, lovingly built of dressed stone by local stonemasons. Just across the South Bay Road from the church is an ever-flowing spring that delivers cool, clear water (just like the song says) which is also imminently drinkable.
The proud community of South Bay also sports a timber frame community hall and many farms.
In watery South Bay, anglers' fish for perch, bass, whitefish, salmon, lake trout, rainbow trout and pike.
There is a boat launch at the end of Cowan's Road, which runs off Highway 6 some eight kilometres south of Manitowaning and right beside Black Rock Lodge.
As previously noted, the boat launch at South Baymouth's small craft harbour offers access to both South Bay and Lake Huron.
Rogers Creek flows into South Bay flows on its western shore not too far north of South Baymouth and is well known as a pike fishing hot spot, both in its bay and in the stream.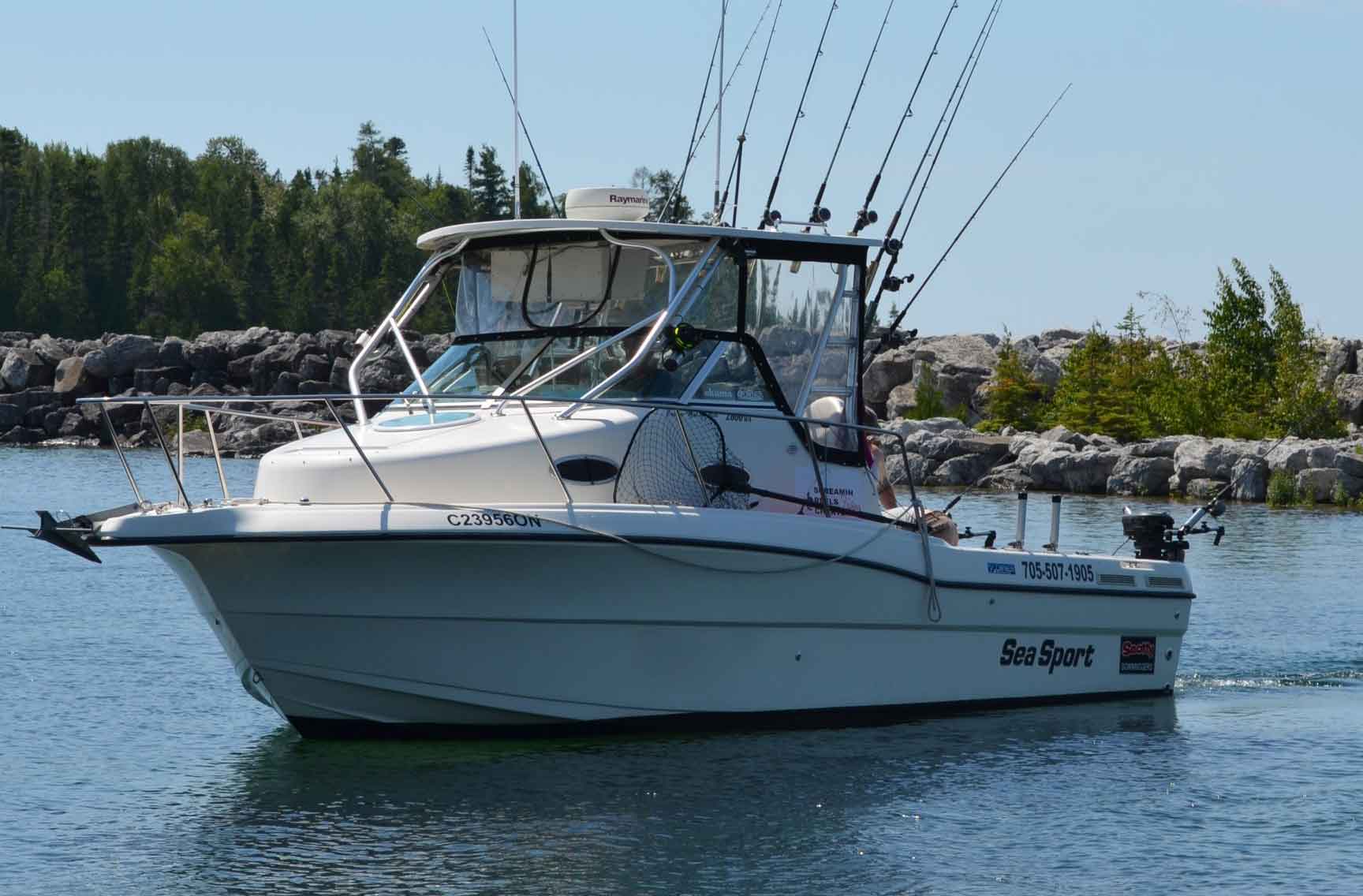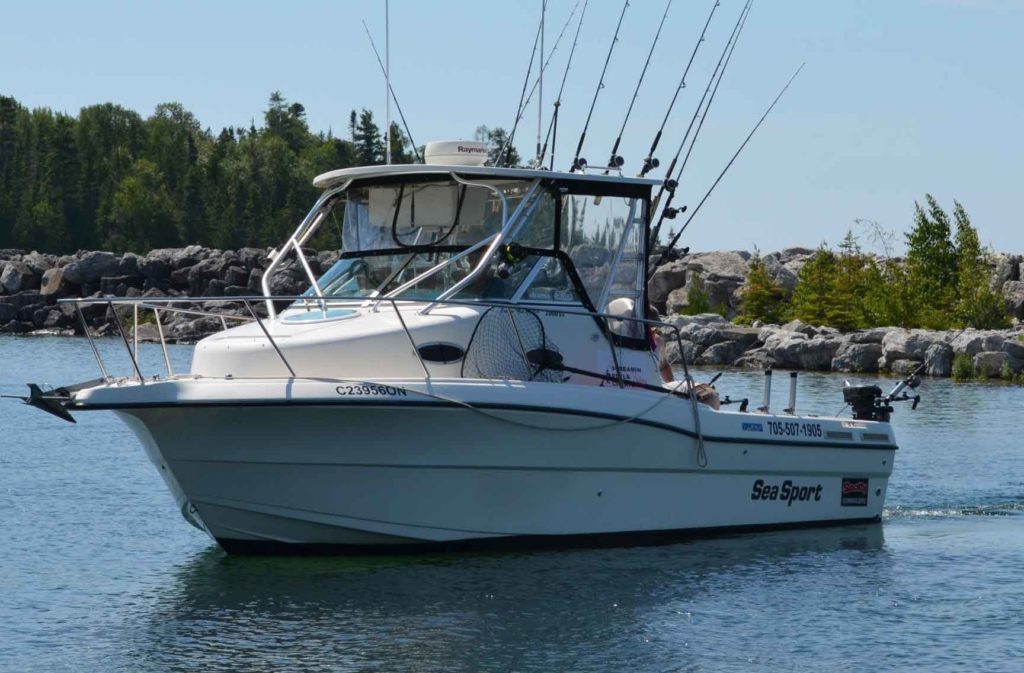 Further north, in Assiginack township and just south of Manitowaning, the fertile farming region known as Clover Valley also has South Bay as a focus and there are several cottage communities on the bay there.
South Bay is part of Lake Huron but (usually) without the wind and storms, but not entirely as this deep bay sometimes hosts its own significant weather events, separate and distinct from Lake Huron.
If you do nothing else at or on South Bay, the village of South Baymouth, where the ferry docks and then leaves to return to Tobermory on her trans-Georgian Bay crossing excursions (from the first Friday in May until the Sunday after the Thanksgiving weekend) is a wonderful place to visit and   ferry watch. The spectacle of Ontario's most prominent ferry coming into and leaving port is unique in Ontario.
There is a delightful park, perfect for ferry watching, just beside and south of the small craft harbour, that comes complete with modern children's playground, two heritage range lights (they resemble lighthouses) and a great elevated boardwalk with benches and picnic shelters, all accessible via a wonderful hump-backed bridge that looks directly at the Chi Cheemaun's shipping channel in vast Lake Huron.