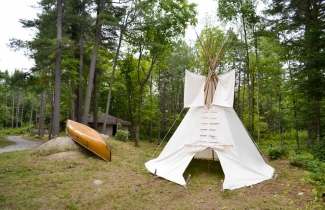 First Nations Experience
Manitoulin Island is a cultural mecca for those interested in learning about First Nations culture. The Great Spirit Circle Trail offers hands-on cultural experiences (www.circletrail.com). At M'Chigeeng, the Ojibwe Cultural Foundation is a centre of learning and an art gallery. Each First Nation community hosts a powwow event, and you're invited to join in. (www.ojibweculture.ca). The Woodland Art Movement is firmly rooted on Manitoulin and many First Nation artists have their own galleries (www.wikwemikongheritage.org).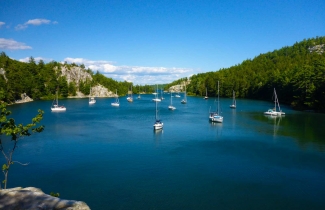 Your 'Natural Destination'
Manitoulin Island is neither overdeveloped nor overcrowded (Little Current and Wikwemikong Village are the largest towns with only 1,500 souls). Careful planning has set aside land, like Misery Bay Provincial Park, as a nature reserve where visitors can experience striking examples of shoreline alvar as well as a myriad of flora not found elsewhere in this latitude. (www.miserybay.org). Beautiful views along every highway, a stable farm population and a myriad of community activities make the Island a 'natural destination'.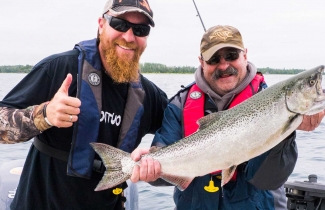 The Fishing is Fine!
Not many years ago, a Canadian record-breaking rainbow trout (40 lbs in 2005) was caught in the North Channel. It likely has relatives… Every game species of fish is available somewhere on Manitoulin Island. Your challenge is to find out in which lake and then catch and land them. But walleye, pike, bass, perch, salmon, whitefish, muskellunge are all out there somewhere, waiting for you to tempt them with your lures and your style. Manitoulin is the world's largest fishing hole!
Great Vacations, Close To Home

There is a great deal that is unique to Manitoulin Island; its celebrated cultural diversity, its vibrant arts scene, its natural beauty and the fact that this northern extension of the Niagara Escarpment is the largest island in fresh water in the world. Getting to Manitoulin Island is also a unique experience, whether by land, by water or by air. The magnificent ferry M.S. Chi-Cheemaun, with a car carrying capacity of 120 and a passenger capacity of over 700, is in a class by herself on the Great Lakes. Operated by the Owen Sound Transportation Company (OSTC), the Chi-Cheemaun experience from Tobermory at the tip of the Bruce Peninsula to South Baymouth on Manitoulin is a destination in itself.
Plan your Manitoulin adventure