Nearly 150 years ago, Meldrum Bay began to be settled by Scots coming to Manitoulin Island from southern Ontario, attracting fiercely dogged, independent-spirited types drawn by cheap, plentiful land covered in virgin forest and the immeasurable waters of Lake Huron teeming with fish.
Working with the first survey party of 1876 in Dawson township, the original settlers staked their claims, under which conditions they had to clear and fence five acres and build a house (usually a two-room log cabin) before they could own their land's title. Then, they would venture over the water to Cockburn Island's land office to acquire their patents–two settlers drowned on that treacherous journey–or by foot in all-weather through bush to Gore Bay's land office. The hardships, the harsh winters and lack of even the most basic supplies, the isolation and backbreaking work of survival, the innovations and small victories of those days are stuff of legend. No roads, electricity, telephones, doctor or dentist softened the tough, often brutal, way of life.
In the early 1880s, lumbering quickly became a thriving industry everywhere on the Island, with sawmills built in all the feasible ports for easy transport of logs and lumber by boat to the US and England. Meldrum Bay's fist sawmill was built in 1880, situated where the marina sits today, hiring hundreds of workers to process the huge quantities of wood being harvested up, down and around the Island's western tip.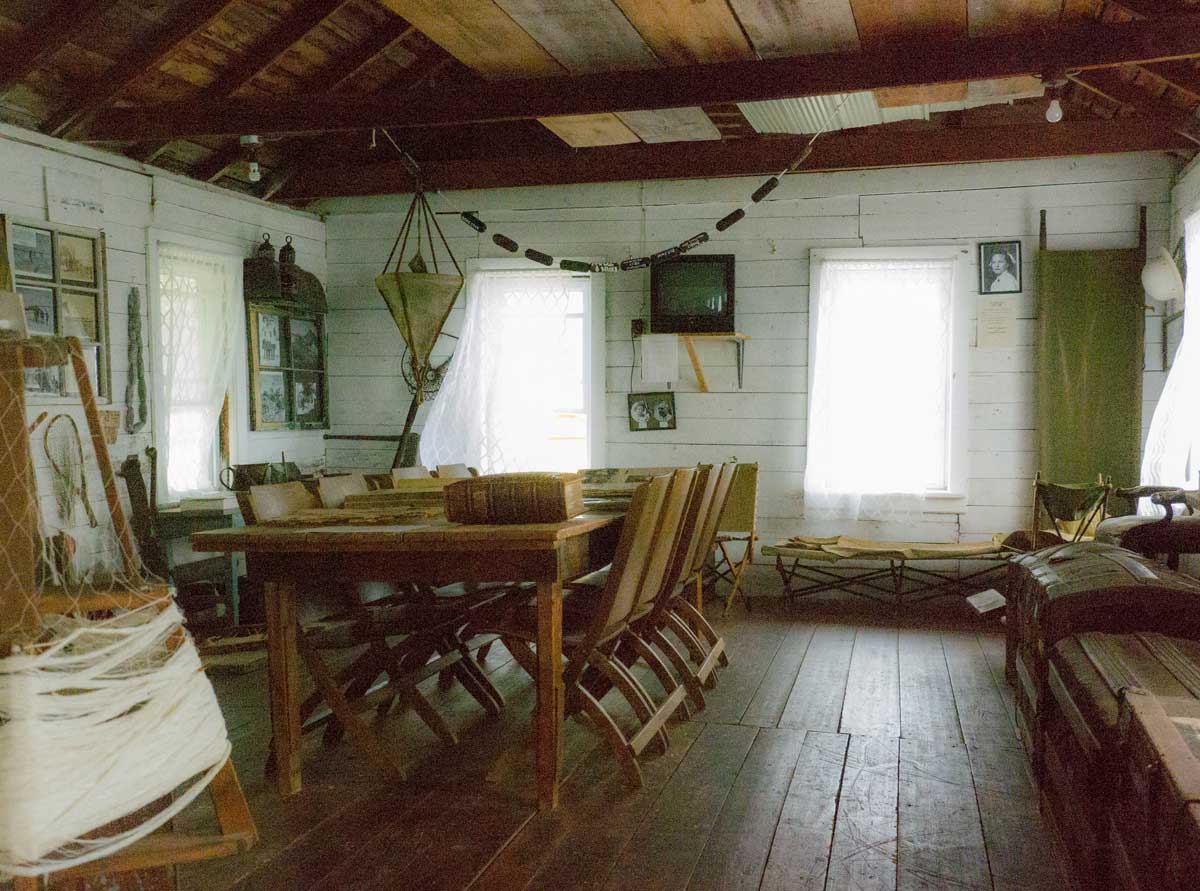 Fishing also became big business; fish abounded in these Great Lakes waters and the 1890s saw fishing stations built to supply the boats from Collingwood and Sarnia with as much as 24 tons of fish weekly.
Several net sheds ringed the bay, their rooms and attics large and airy workshops in which to dry and repair nets; the day's catch was packed for shipping and the fishermen prepared for the next morning's pre-dawn start on the lake. In a few short years after settlement, Meldrum Bay was a boomtown with stores, hotels, blacksmiths, school and boarding houses to service the flourishing community.
Now home to the Net Shed Museum, the last remaining net shed in the bay, built by fisherman Joe Millman in about 1902, stands resplendent in its lighthouse-red, original cedar shakes. The long, rustic building offers itself to be savoured as a unique historical artifact in its own right.
Inside, small windows on three sides and wide screened doors on the fourth side let in a surprising amount of light through gauzy curtains; the wide plank floors, heavy log rafters and poles supporting the ceiling testify to the handmade origins of the structure.
Founded in 1967 by the Meldrum Bay Historical Society as a Canada Centennial project, the museum is maintained scrupulously inside and out by a dedicated band of community volunteers. Across the road in Joe Millman's old family home lives the treasurer of the Historical Society, Dawn Marie Wickett, a descendant of Millman's through marriage into the Millman/Wickett families. She can look out her front windows and keep an eye on the net shed all year long while her husband Mark keeps up with improvements. Nephew Adam George Wickett is this year's summer museum intern who greets visitors and keeps the place spiffy; a high school student, he lives in Brampton and loves to re-live Meldrum Bay summers and  stay with his grandmother. The president of the Historical Society is Liz Durham, who lives just up the hill and has been active in the museum since its founding, taking part, with other volunteers, in the annual opening of the museum in spring and closing in fall and in dreaming up fundraisers such as the popular annual beef barbecue.
Community members donated all the museum's artifacts: jewellery, beaded appliqués and sewing baskets, photographs, linens, washtubs and irons, butter churn and moulds, quilts, school desks and blacksmith and farming implements. "Remember," says Liz Durham, "electric power only came to the village in 1950. Until then, people used coal oil lanterns and phones were hand-cranked." One donation, from the Joyce family, was of two large steamer trunks full of beautiful clothes and trimmings that had been owned by their "two elegant Irish dressmaker cousins."
Toward the back of the shed, artifacts from the steam mill, a leather blacksmith apron and tools lead the way into the marine history room, centered by a library table covered in scrapbooks for browsing. Models of Millman's tugs, named after his daughters, sit in glass cases; memorabilia from the 'Alberta' include a hand-fashioned horse motif weather vane and steam whistle.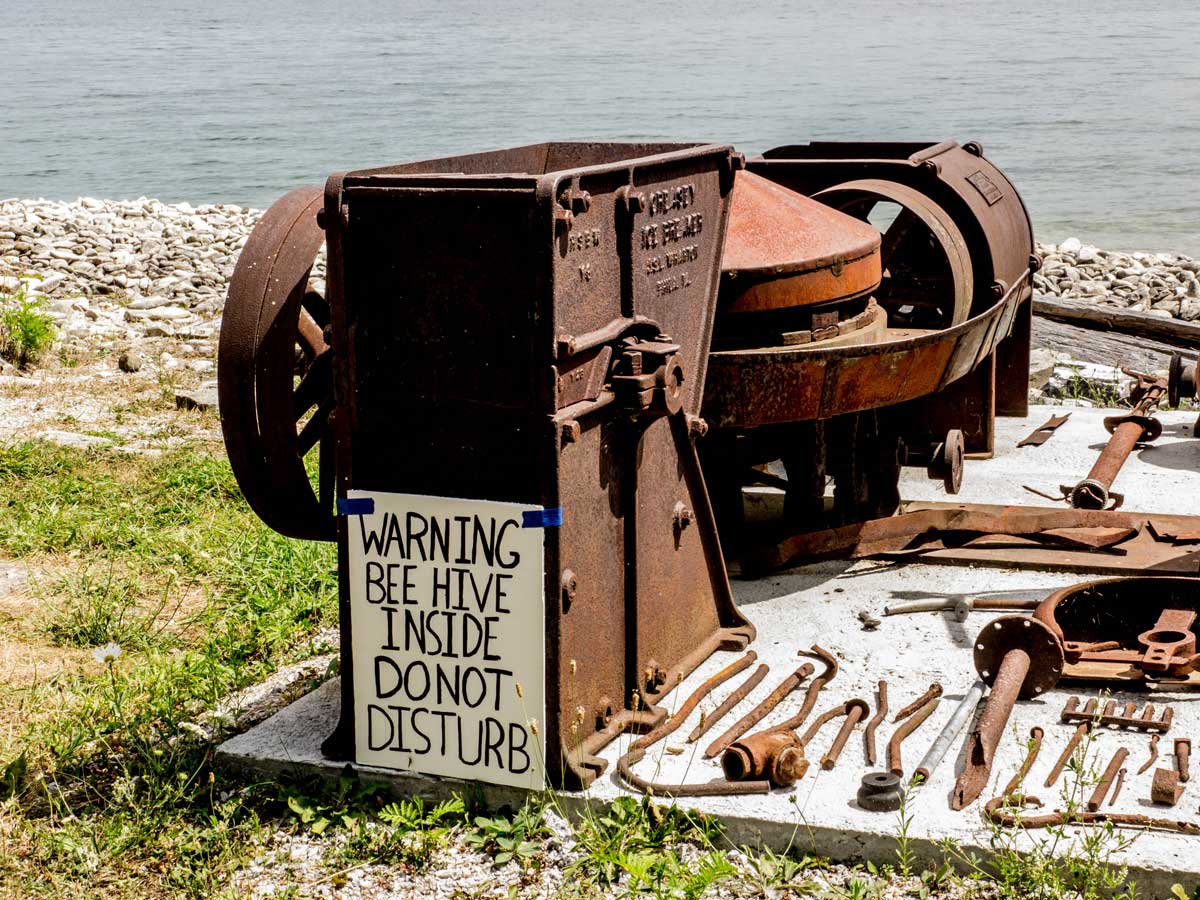 The vast waters of Lake Huron lapping the rocky shore just a few feet outside the windows provide the nautical backdrop to one of the greatest marine mysteries of Manitoulin Island. Here, laid out in timbers and chains and fascinating found bits, is a display of 'Le Griffon'–a French ship that sank in the Mississagi Straits in 1679. Or did it? Stories have proliferated over the years, of how the ship, navigating by compass, was drawn helplessly into the infamous magnetic shoals; of the skeletons of crew members found in a nearby cave, including a "very large" skull, said to be that of the pilot, Luke the Dane, known to have a very large head; of the found watch case, buttons and coins stored for years in the Mississagi Lighthouse before vanishing. It is a story that has fascinated people in these parts and abroad for centuries and remains an unsolved puzzle to this day.
Even now, Meldrum Bay retains the spirit of rugged determination that marked its beginnings. The Township of Dawson is officially 'Unorganized' – there is no municipal council, nor reeve, to run things. Says Liz Durham, "All public works in the township and the village of Meldrum Bay are done by volunteers. The Dawson Citizens Improvement Association raises money and volunteers to put the marina docks in and take them out every year; we applied for and got grants for the re-installation of gas tanks and pump-out service. A Service Board collects taxes to pay for snowplow and dump contracts; there's no water department, everyone has their own water. When we need to get things done, we do it ourselves, together."
The Net Shed Museum is a moving testament to the resolve and perseverance of the generations who pioneered here, and to a very large extent in this faraway outpost, still do.
1 Water Street, Meldrum Bay. Open Tuesday to Sunday, 12 pm to 4 pm and to 9 pm in July and August.