By Isobel Harry, This is Manitoulin April 2020
There's an invigorating breeze, a fresh new wave rolling onto Manitoulin's shores, a bit of a rural Renaissance, if you will. Feel it in many of the Island's small, historical towns and villages as more artists, artisans, growers, creative innovators and entrepreneurs – passionate about being a part of and contributing to Manitoulin's vital communities – launch original initiatives born of creative new approaches to living and working here.
As in many small villages on the Island, Providence Bay was feeling the effects of the tectonic shift from a farm-based economy – the closing of stores and services that once had anchored a community, the dearth of jobs, the exodus of young people – the very effects that are proving to be the driver of a new economy based on inventive ideas about Providence Bay enduring appeal as a popular tourist destination.
Always a well-loved getaway, Providence Bay has it all, starting with the North's longest sand beach, a magnet for its crescent moon of pale gold sand, a marina buzzing with fisher folk in quest of the abundant large salmon, a renowned agricultural fair that has been "showing the fancy work and prize livestock" of this vibrant community for 137 years, a renowned bluegrass festival and, new last summer, a farmers' market on Saturday mornings. Campgrounds (such as the large and well-liked Providence Bay Tent and Trailer Park) and cottages do a roaring business, old-fashioned wooden rental cabins ringing the bay, many in operation since the 1930s and '40s.
By the time McDermid's iconic hardware store closed in 2010, the gas station was shuttered and the centre of Providence Bay lost its main commercial amenities, the changes that would transform Providence Bay had already been afoot for a while.
Twelve years ago, when erin-blythe reddie (no caps please) moved here, local consensus seemed to be that "the hamlet was dying," she says. "But some things have to leave for something else to happen. I saw Prov as a phoenix rising." She bought a house off the main street and set up 'Naturally … it's a Working Studio' to produce her 'naturescapes,' paint with watercolours, weave textiles, including Japanese Sashiko pieces, and sew contemporary art quilts. "And I'm an artist in the garden in summer!" she adds, producing a bounty of food, some of which is enjoyed by guests of her rental loft who, like her, appreciate Prov "as a nature-based creative place to be.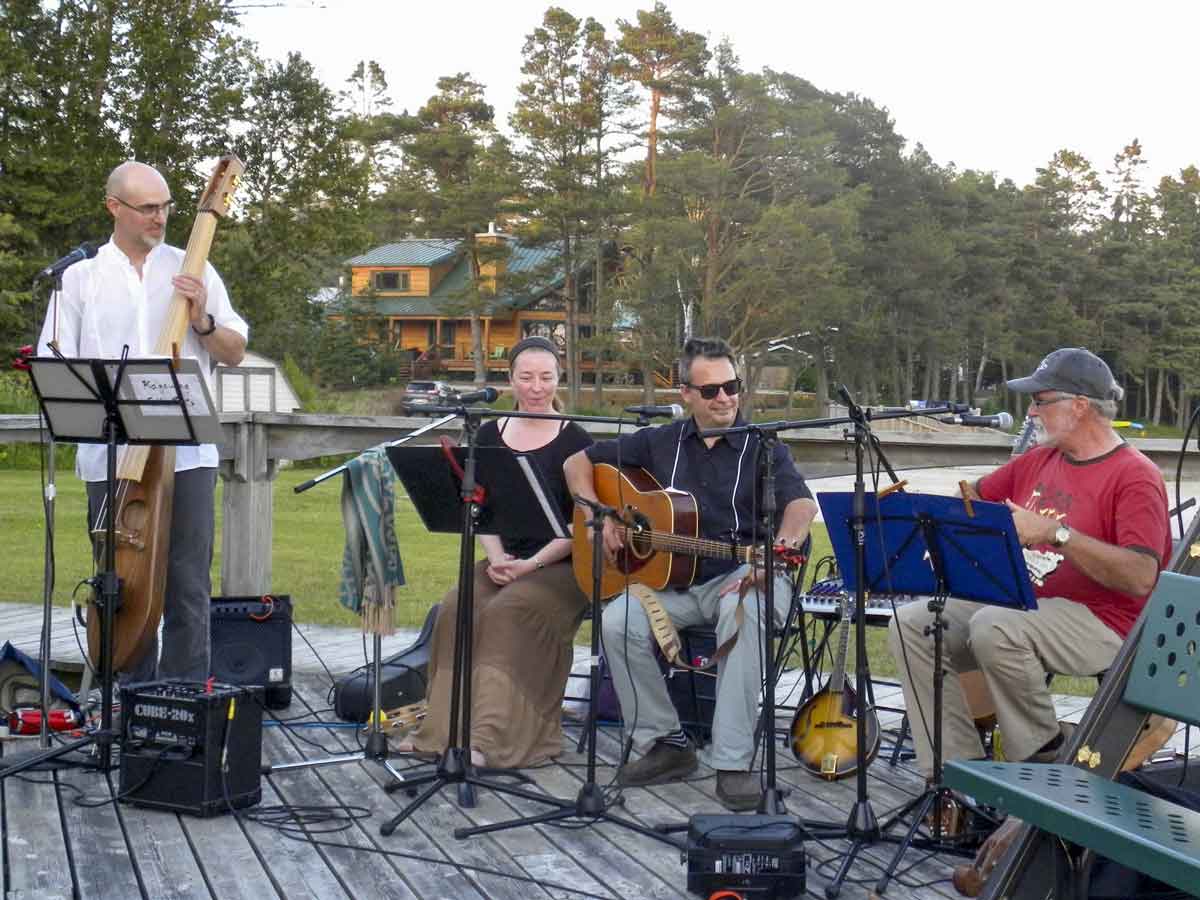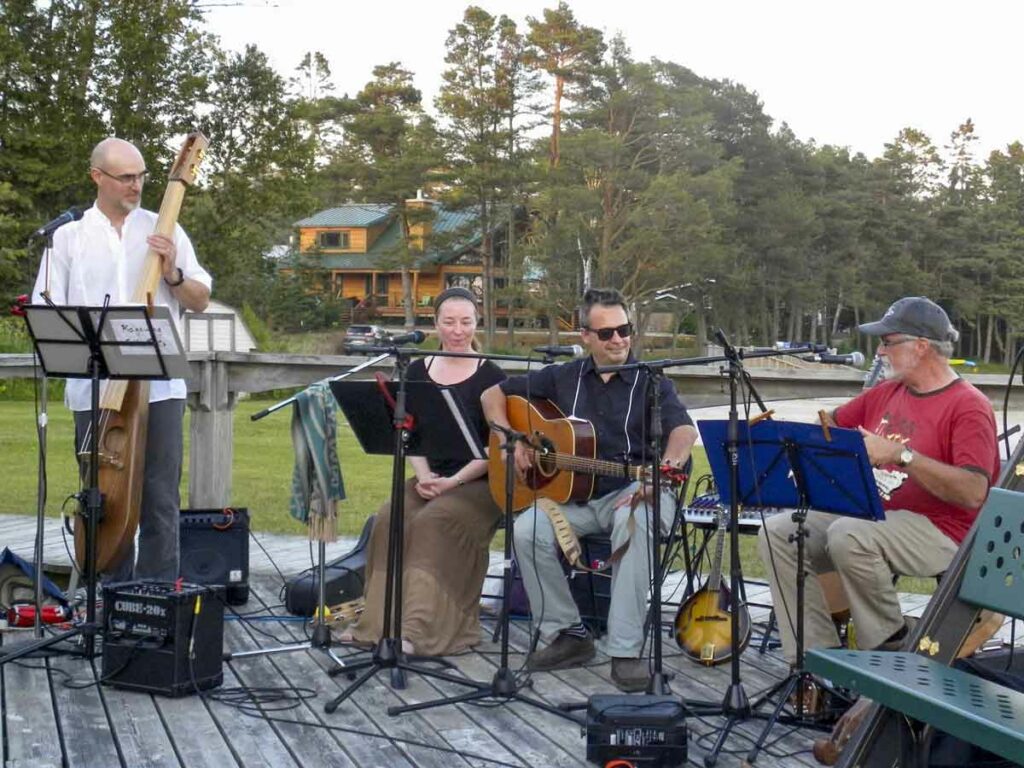 "There are more and more pockets of imaginative and resourceful people cropping up,' says erin-blythe. "Networks are strong and very fluid; you can find kinship all over the Island. Infused with this creativity, a community keeps building and getting stronger."
The library – with Sally Miller at the helm – the post office and the community centre are revitalized as gathering spots; the newly re-designed village square is now a restful park that Mary-Jo Gordon, in consultation with the community, saw through to fruition. As the Huron Sands Motel is refurbished by new owners Inessa Taibert and Vera Kuminov Mamoutov, they run their diner year-round and stock small convenience items; the 1898 School House Restaurant, operated by spouses Heather and chef Greg Niven, has been serving up fine dining since 1995.
The Interpretive Centre on the beach has been given new life by Lance Baptiste, a former resident of Ottawa who came to Canada from Guyana with his parents when he was nine. The music industry professional ended up in Providence Bay "as a result of a series of happy accidents," he says. In 2016, his partner found a job on the Island and a home in Providence Bay for the family, two blocks from the Interpretive Centre – and the ice cream bar within was available for lease! From the kitchen of his newly-purchased beachside venue, Huron Island Time, Lance soon was offering Guyanese specialities – roti, dhalpuri, and Jamaican-style jerk chicken. As for music on the boardwalk, he says, "I want eclectic, to marry professional touring musicians with local musicians, to bring more new experiences for people to enjoy."
For this season, Lance has invited a cellist, a Trinidadian calypsonian, an "amazing" percussionist and a 'cavaquinho' (a small Portuguese guitar) player to join local performers in serenading visitors to the lakeshore.
A passion for Prov was ignited in Matthew Garniss by his parents, United Church minister Martin Garniss and Lynda Garniss, a nurse, who bought a home on the Mindemoya River after a camping trip here in 2003. Matthew came to visit after his second year at Ryerson University and promptly found a job at Greg Niven's Huron Fish and Chips for the summer.
After a post-graduation stint in the printing industry in BC, Matthew started to think about being his own boss, and in 2010, he returned to Providence Bay and bought the fish and chips shop.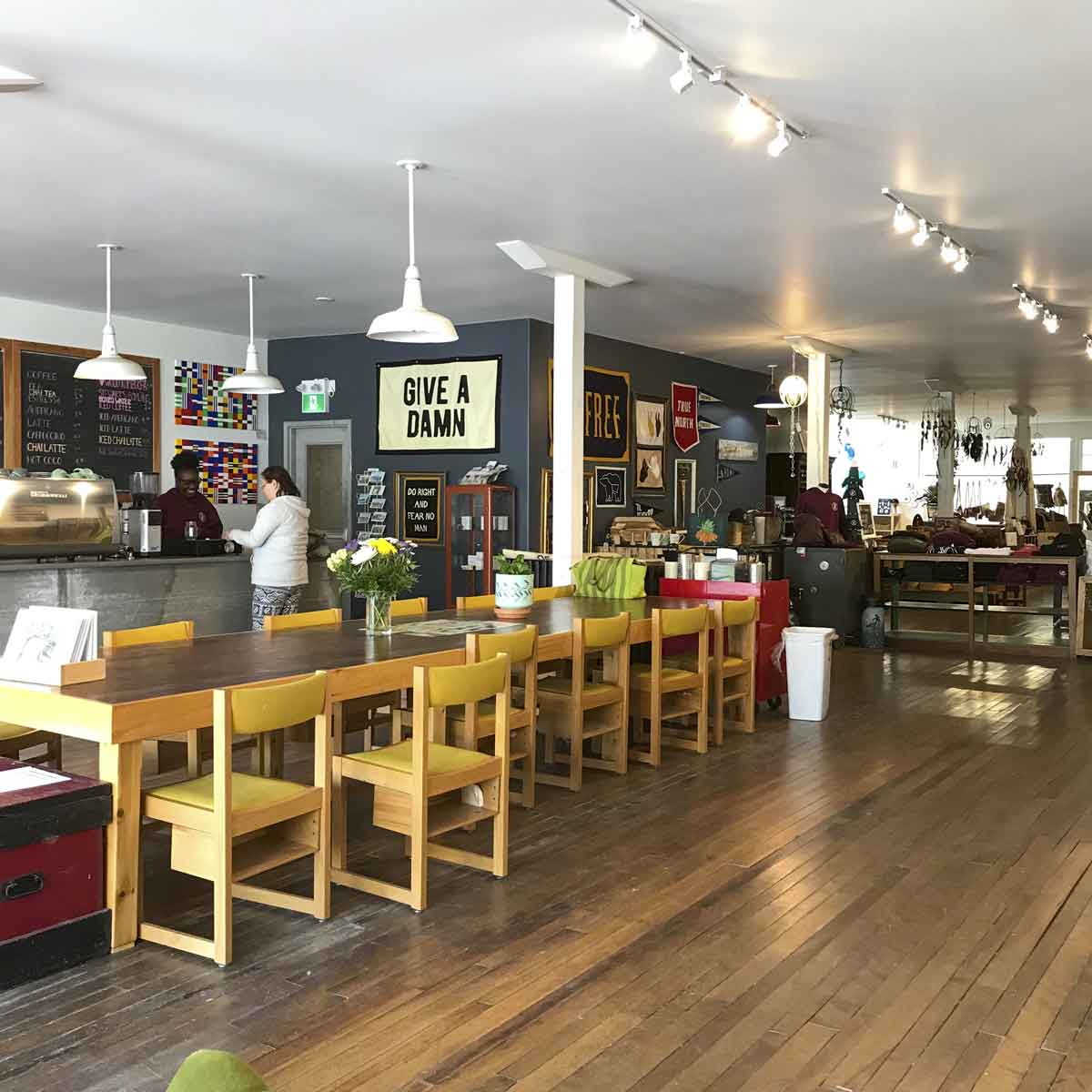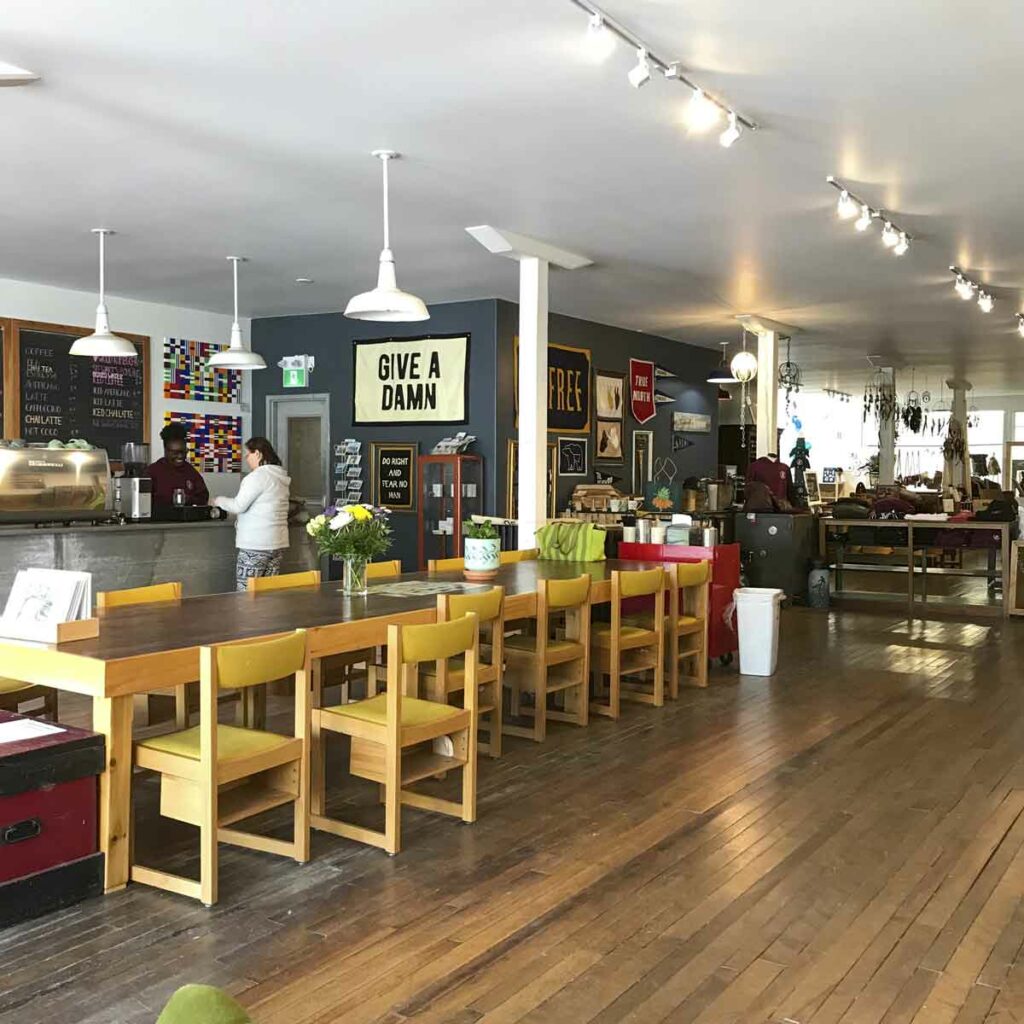 He isn't running "your usual fast food place," says Matthew, who "wanted to keep staff around, encourage and mentor them so they feel a part of the business. Some of the little kids who visited with their parents every year worked in the shop when they grew up," he says, "and local kids have gone off to college after working here in the summer and are now looking to come back to the Island with their new skills. It's more than just 'exchange money for food.'"
In 2012, casting about for opportunities to showcase the arts, he put in an offer on the old McDermid hardware store; it was turned down. Finally, in 2016, Matthew and partner Bridget Sarpong bought the building and began to realize their concept of a cafe, gallery and gift shop in the large, open space they named the Mutchmor (after the namesake side street, named for a community pioneer family of that name). Bridget's Peace Cafe is at its heart while a large artisans' bazaar fills the high-ceilinged recesses with stalls and nooks and crannies filled with locally-made and international finds. "We wanted half country and half city, a more stylized experience," says Matthew. On the second floor are the four Mutchmor Lofts, airy rentals with views of the lake and the main street.
Looming large in countless souvenir photos is the vivid mural that takes up the entire south wall of the Mutchmor. Painted in 2018 by Toronto multi-disciplinary artists, husband and wife Bruno Smoky and Shalak Attack, and Fiya Bruxa – it's like a billboard announcing all the bold, new creative responses to the timeless inspiration that are places like Providence Bay on Manitoulin Island.