On Manitoulin, as each new township was surveyed after the still-controversial 1862 Treaty between the Anishinaabek and the Crown, the first settlers, mostly from the Collingwood and Coldwater areas of Ontario, homesteaded the land of Campbell (1867), Carnarvon (1867-70) and Sandfield (1870), former townships now amalgamated into today's Municipality of Central Manitoulin.
The pioneer days of Central Manitoulin's proud heritage of farming, fishing and lumbering are carefully recreated in the historically evocative outdoor settings and local exhibits of the compact Pioneer Museum, conveniently attached to the Welcome Centre on Highway 551 in downtown Mindemoya.
Last fall, the Central Manitoulin Historical Society hired the museum's first curator, Caty Virostek, on a one year contract, recently graduated from the Museum Management program at Fleming College. Ms. Virostek, who is from the Sarnia area, has been cataloguing the collections and the many artifacts that are held in storage. "There are so many artifacts," she says, "and no place left to put them. We need extra space." The curator has re-designed the displays and labels to highlight unique items within organized themes, so that each exhibit has breathing room; a carefully curated selection of artifacts evokes the people, places and events of the early days without overwhelming the visitor.
Local farm histories, photos and mementos of early schools and businesses are evidence of the dynamism of the burgeoning community of the mid-1870s. Wagg's Creamery, founded by A.J. Wagg in 1907, thrived until 1981, when it was sold to the Farquhar dairy family. The former stone creamery's cornerstone now stands at the front of the Central Manitoulin Welcome Centre and Pioneer Museum. Inside the museum, a display case dedicated to Wagg's business holds original butter boxes, milk bottles, a miniature Wagg's delivery truck and a poster for "homogenized ice cream"; another reminder of the Wagg family is the forested parcel of 42 acres with easy walking trails called Wagg's Woods, east of the town's centre, around the corner on Highway 542.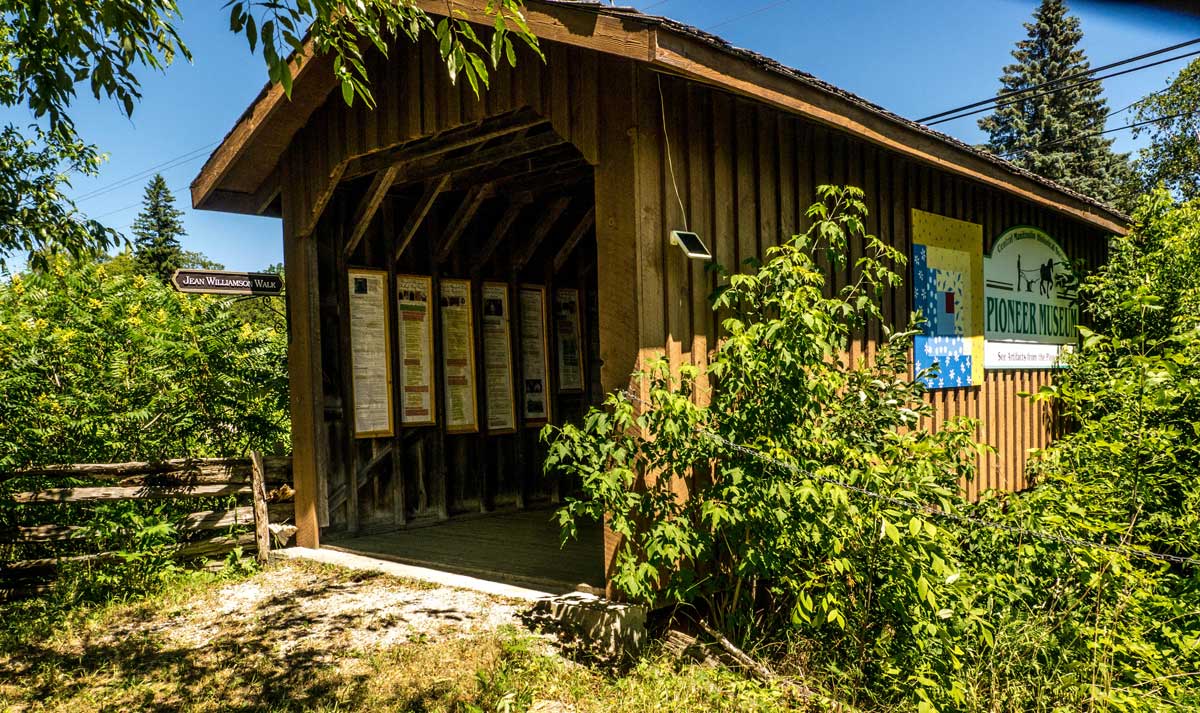 One side of the museum's bright room displays several survey maps of the first land partitioning, and on the opposite wall hangs a most unusual quilt hand stitched by the late author, activist and artist Marion Seabrook, a replica in cloth of a section of the 'Landowners of Carnarvon Township Survey Map' that Ms. Virostek found in storage.
For 40 years, from 1928 until 1968, Marion Seabrook's parents, Joe and Jean Hodgson, operated a popular tourist resort on Mindemoya Island, Lake Mindemoya's prominent landmark of Ojibwe legend. The Hodgsons bought the 'largest freshwater island within an island in the world' and re-named it Treasure Island. A resort brochure describes the fourteen two-and three-bedroom cottages and boasts of "no mosquitoes or blackflies!" Several histories of Treasure Island were written by this literary family, and are available for browsing: Jean Hodgson's 'Treasures from Treasure Island,' and Marion Seabrook's story of her grandfather's arrival on Manitoulin in 1874, entitled 'One Man's Journey,' and 'Once Upon an Island' and 'Touched by an Island.'
In the peaceful, leafy park off the museum's back deck, a dollhouse-like log cabin built by William and Agnes King in 1867, was donated in 1993 to the Central Manitoulin Historical Society by Jack and Marion Seabrook, who had had it moved first from its original site to their new golf course, Brookwood Brae. They spent four summers in the simply furnished two-storey cabin before bequeathing it to the museum.
A large barn with '1921' emblazoned at its peak displays rare early farm machinery, pulled by oxen or powered later by steam, side by side with vintage examples of a 'utility' horse-drawn buggy constructed of plywood, of a more upscale 'courting' buggy with upholstered seats, and of a 'democrat' with a rear seat to accommodate more passengers, all much in use for chores and travel in the late 1800s; there's a horse-drawn sleigh carriage in the barn, whose smooth, flat "skis" glided over icy roads and lakes in winter.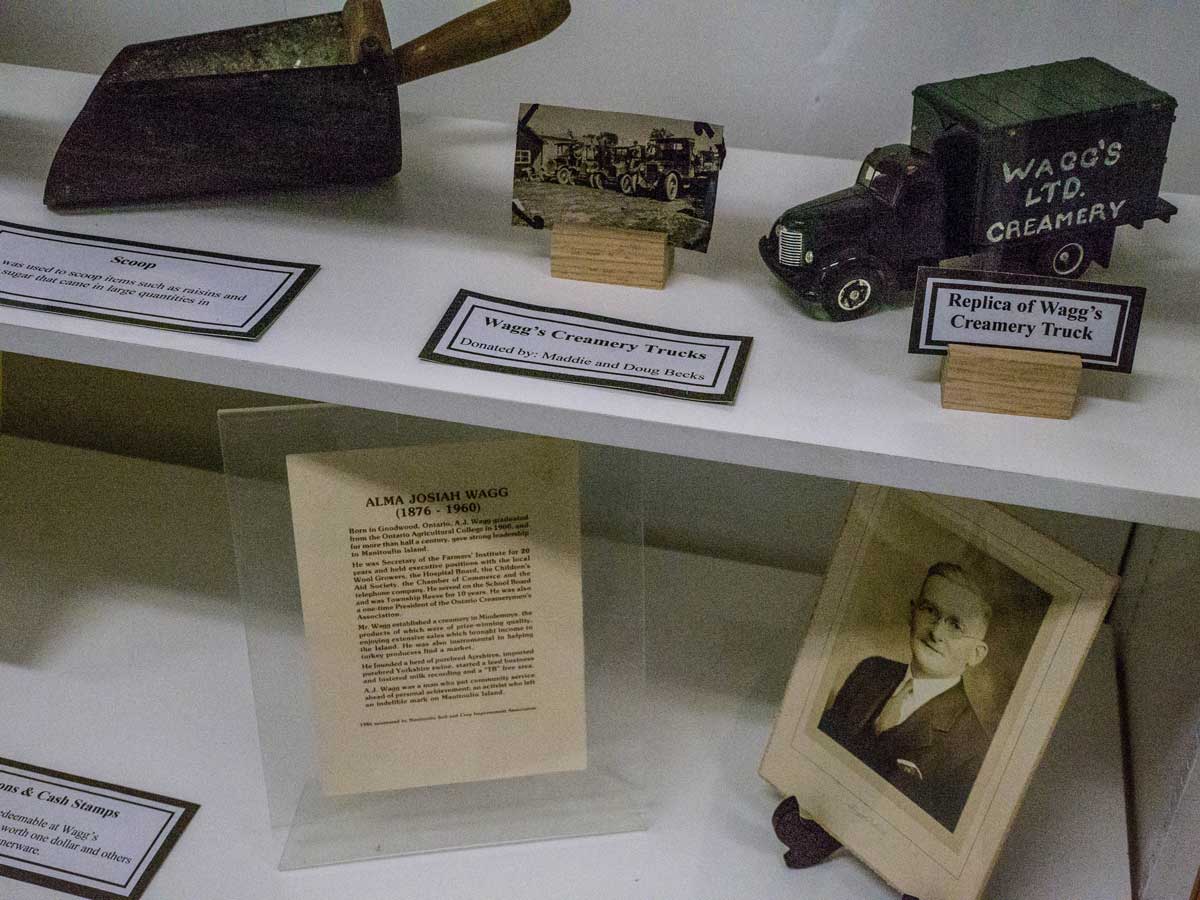 Across the way is the blacksmith's log workshop with anvils and woodstove, walls covered in the old tools of the trade for the forging of horse shoes and iron and steel wagon wheel rims, hoes, rakes, nails, hinges and latches.
A covered bridge holds an open-ended gallery of genealogical histories of the first settler families who secured land grants for farms, established first a general store, then the saw and grist mills, wagon and blacksmith shops, school and churches of the growing community. Here, papering the inside walls of the bridge, are the long lineages of the Love, Kay, Fletcher, Wedgerfield, Galbraith, Hutchinson, Williamson and Bock families and of many other ancestors and descendants of the original folks who settled these swaths of land bordered by magnificent Lake Mindemoya, with a storied island at its heart.
Central Manitoulin Welcome Centre and Pioneer Museum
2207 Hwy. 551, Mindemoya
Tel: 705-377-4383
Open 9 am to 5 pm every day in July and August.