By Isobel Harry, This is Manitoulin April 2020
"If you are looking for a vacation of night clubs, we would suggest other places in Ontario," cheekily yet sagely counsels the vintage first edition of This is Manitoulin magazine, published 60 years ago this year. This bit of travel advice, and much else about the Island's appeal, remains true today, as reflected in the premier guide dedicated to informing and enlightening visitors about the charms, people, places and events, histories and legends of the world's largest freshwater island. 
The first issue of This is Manitoulin, published in 1960 – slightly more compact and printed in black ink on white paper with Kelly green accents – extolled the "rugged yet peaceful countryside. It changes in appeal from morning until night … from arrival to departure … with each change of the weather. It is country for the adventurer and for those who seek rest." This elemental portrayal stands as it did then over the length and breadth of Manitoulin – with some inevitable changes wrought over the intervening decades, many in response to the growing trend in tourism, the main driver of the Island economy.
The "vacation opportunities" abound as they did then – for family holidays, cruising the North Channel, fishing, agricultural fairs, community fêtes – now augmented by crowd-pleasing rock, country and bluegrass concerts, myriad powwows and film, theatre, kite-flying and cultural festivals and an expanding network of hiking trails and bike routes.
Getting here is far easier than it was back in 1960.
"By steamer," says the section on how to reach Manitoulin, "you can come to many points on the Island from Owen Sound, Sault Ste Marie, Thessalon, Bruce Mines …" This mode of transportation, these routes, no longer exist, just as the old CPR train line into Little Current is gone.
But roads have been vastly improved – in 1960s This is Manitoulin, Highway 6 (then 68) through the LaCloche Hills, aka the Drunken Snake Trail, was being "straightened out" from being "twisty-turny" (quaint wording for what by all accounts was a hair-raising, death-defying drive) and many roads, including Highway 6, now incorporate bicycle lanes. Bicycling has seen phenomenal growth on the Island as a mode of transportation chosen by many visitors, unheard of before highway shoulders were paved.
In 1960, the ferry SS Norgoma operated on steam power; the steamship was converted to diesel fuel in 1964 and could carry 25 cars on the main deck and a dozen vehicles on the lower deck. Its sister ship, the SS Norisle was steam-powered all its life and had a similar carrying capacity. (The Norisle has rested at anchor in Manitowaning Bay, in that peaceful village, since its decommissioning in 1974.) Today's MS Chi-Cheemaun ferry, launched in 1974, can carry 638 passengers and crew and almost 150 vehicles while offering dining, deck chairs and onboard experiences for all ages.
The Swing Bridge in Little Current – the only way off or on to the Island in winter – still admits only one lane of traffic at a time, causing drivers to pause upon arriving or leaving, to the delight of some and the dismay of others. Whatever the opinion, the iron structure, built in 1913 and declared an Ontario Heritage Bridge in 1983, is still-operating, an historical marvel.
Accommodation options have grown from many to multitudinous. There are fewer, if any, "housekeeping cottages with outdoor toilets built on rocks," certainly, than reported in 1960 – and nowadays, only a tiny number of resorts offer American Plan, paying a daily rate that covers room and all meals. The trend in lakeside resort cottage rentals is now self-catering kitchenettes and eat-as-you-tour pit stops at Island eateries. (Check The Manitoulin Expositor's weekly listings of community barbecues, dinners and picnics.)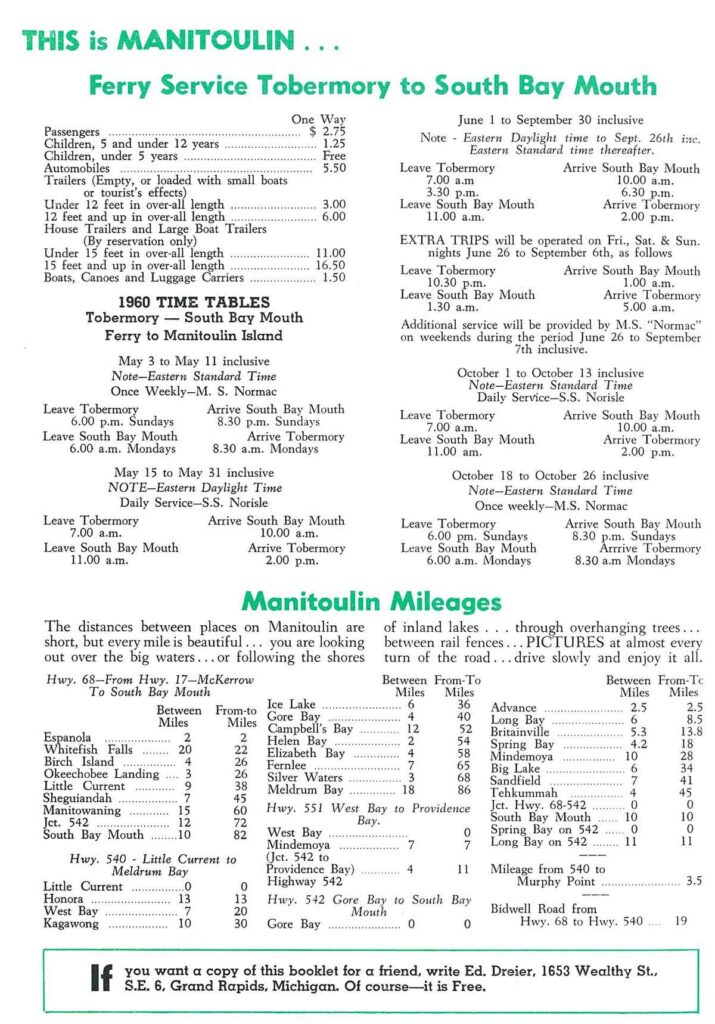 Many once-legendary resorts, stores and services listed in 1960 are no more, replaced by new owners or sold outright for new purposes, or, in the case of the famous Harbour Island Yacht Club and resort near Kagawong, left slowly to disintegrate after its celebrity heyday of the 1940s. The good news is that Harbour Island is undergoing restoration by a descendant of the original owners and that many of these olden-days places are still offering old-fashioned pleasures to a newly appreciative clientele. A diverse roster of cabins, campgrounds, motels and hotels, homestays and resorts to suit any vacationer is listed, as ever, in the pages of this publication, This is Manitoulin.
With Lake Huron encircling Manitoulin and 108 inland lakes on the Island, water sports have always been a big attraction. The North Channel is consistently named as the best for freshwater sailing in North America and in summer, marinas in Little Current, Gore Bay, Kagawong and Meldrum Bay are filled with boats and boaters from all over the continent. Visitors may choose from any number of kayak, paddleboard and canoe rental outfitters, rent a yacht for a day or a week or simply relax on a sightseeing cruise.
Fishing has been rewarding anglers on Manitoulin's large and small lakes and streams for eons – smallmouth bass, walleye, perch, lake trout, whitefish, salmon and so on – and can still boast "real fishing fun," just like in the old days.
Much has been done over decades to keep eco-systems and fish populations thriving, including restocking by the fish and game clubs, extensive stream and watershed restoration programs and increasing awareness of, and work on, invasive species of aquatic animals and plants.
Manitoulin is home to fishing derbies winter and summer. Now in its fifth year, the Manitoulin Expositor Salmon Classic is the largest, a many-categoried contest that lasts four weeks in July and August – with big cash prizes and other incentives, chances of winning something for your catch are pretty good.
The two-day, two-lake Manitoulin Ice Sbowdown in February is co-organized by the Wiikwemkoong Ice Fishing Derby (through Wikwemikong Tourism) and The Manitoulin Expositor. The event attracted over 400 hardy anglers to Lake Manitou and Manitowaning Bay in Lake Huron last winter. "This event put bums in beds, gas in cars and people in restaurants," Luke Wassegijig, manager at Wikwemikong Tourism, said in an interview at last year's Ice Showdown. "We're making this Manitoulin's premier winter event, bringing much-needed tourism dollars to Manitoulin during the winter season."
This is Manitoulin, then as now, "provides a print product that shows Manitoulin as an interesting place to visit and spend holiday time," according to Rick McCutcheon, who took on the magazine in 1980 as part of the Manitoulin Publishing Co. Ltd. "Unlike virtually all internet and social media sites that focus on an individual town, resort or attraction, a tourist lure book like This is Manitoulin tries to give an overview of the whole package – the entire Island."
Fourteen thousand copies of the magazine were printed in 1960 and today the print run is close to 60,000, distributed to travel and trade shows beginning in February each year. This is Manitoulin has spawned ExloreManitoulin.ca, a spinoff that has "quickly become Manitoulin's leading tourist website," says Mr. McCutcheon. "Anything we can do to bring tourists here and have them bring 'new' dollars into the economy."
Writing of the region in 1960, the authors of This is Manitoulin wrote lyrically of ".… almost a solid wall of Pre-Cambrian rock which has been gouged out by the ice of early times, leaving magnificent lakes … deep and clear-watered. There are streams and waterfalls. There are bays with hundreds of islands …" Yes, and towns and small villages with original, evocative Indigenous names, miles and miles (as they used to say) of cedar rail fences, a riot of wildflowers, dazzling stars in dark skies, peace and blessed quiet, it's all still here.
Some things never change.