By Isobel Harry, This is Manitoulin April 2020
There's a surfeit of riches to discover in Manitoulin's several distinct museums: each offers a snapshot of the local history of their community in a great variety of displays of artifacts, lore and distinct areas of specialization. For a small fee or donation, visitors can spend a little or a lot of time absorbed in Island collections of early photographs, domestic and farm implements, Indigenous regalia and artistry, model boats, ancient fossils and 10,000 year-old quartzite tools, all locally sourced and displayed in outstanding settings.
But there's more to these repositories of the past. Some main museums, institutions and even a department store and a souvenir shop also hold fascinating 'mini-museums,' perfectly-restored historical sites or thoughtful groups of rare objects in settings designed for special contemplation.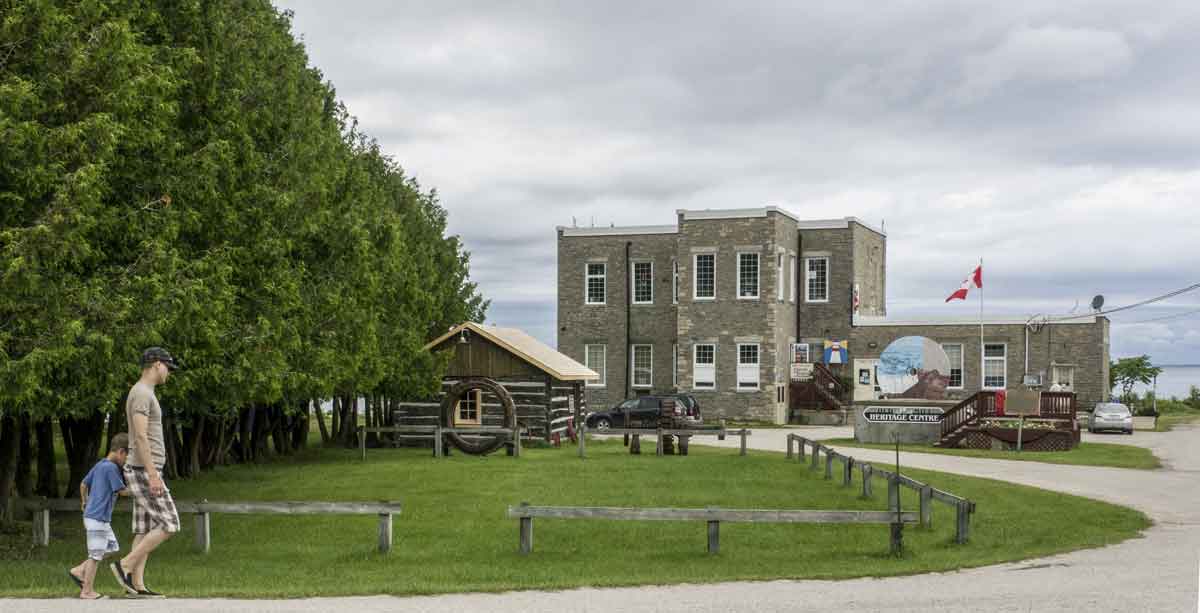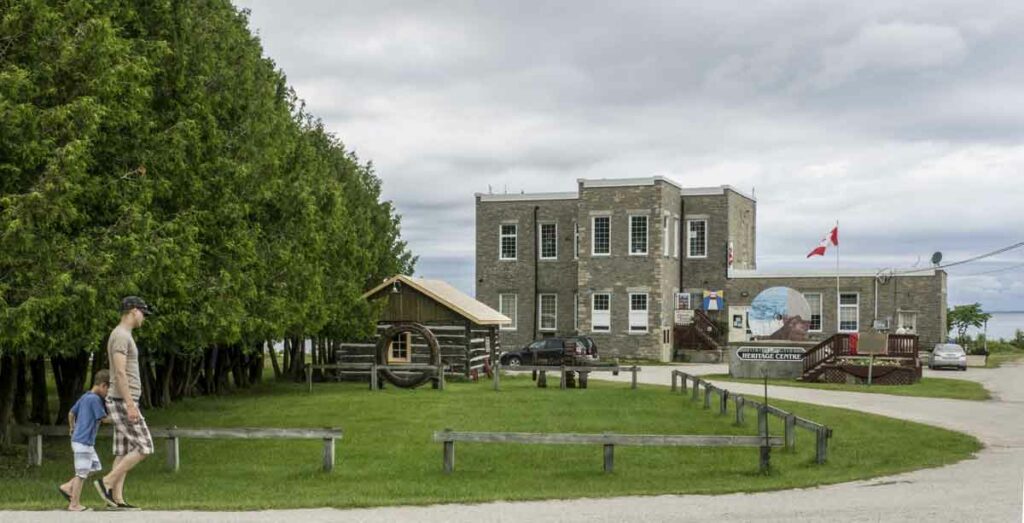 The mini-museum on the grounds the Old Mill Heritage Centre Museum in Kagawong (a former pulp mill built of limestone in 1925) is a postage stamp-sized log cabin housing the Post Office Museum of early Manitoulin Transportation and Communication. The former Spring Bay pioneer post office, built in 1890, was relocated here and houses settler artifacts, an early switchboard and intriguing stamps and postal curiosities. KagawongMuseum.ca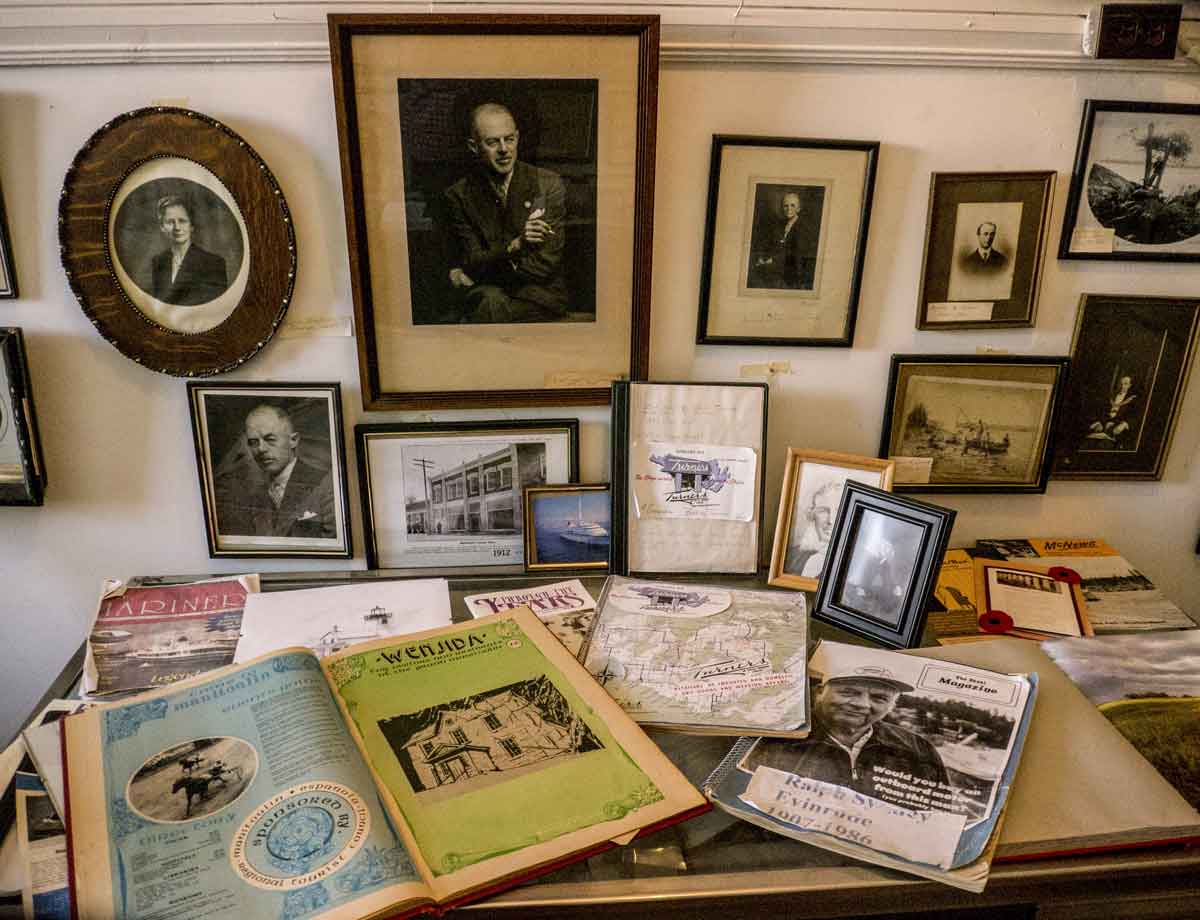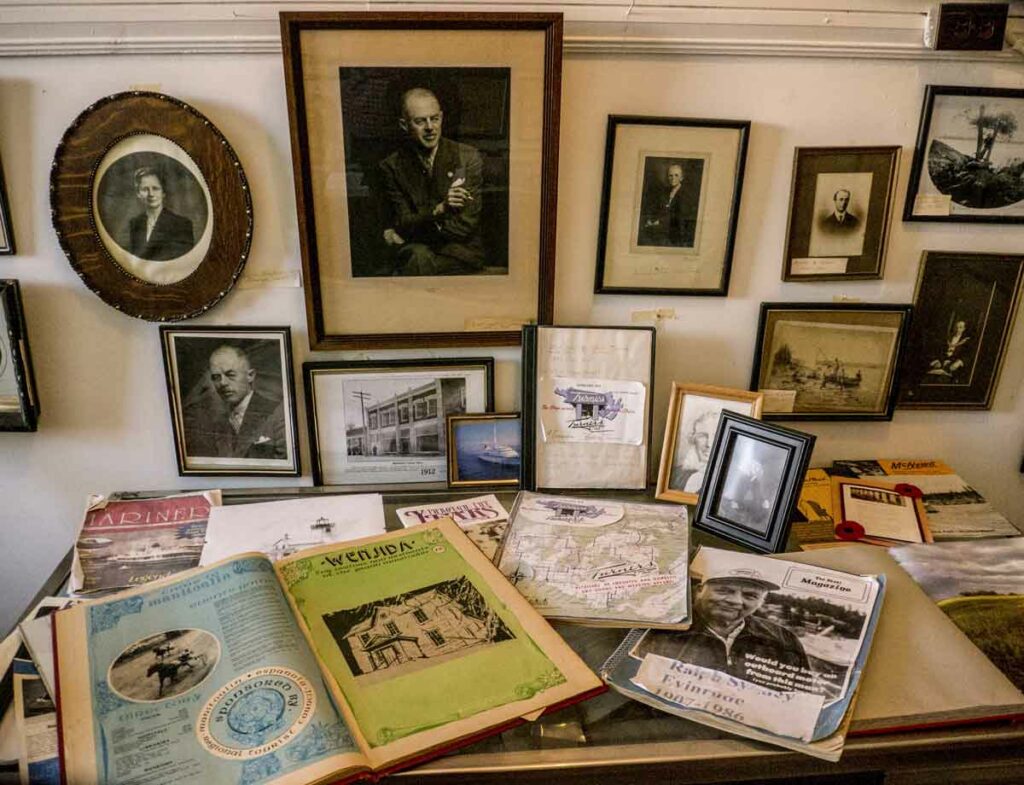 Up the wide wooden staircase in Turners of Little Current, tucked into a far corner, a small, evocative room holds the old typewriters, yellowing paper invoices stamped paid, wooden desks and display cases of the family business founded in 1879. Turners' mini-museum is a valuable archive in a thrilling jumble of old scrapbooks, photos and newspaper articles dating back over a hundred years of local history; many stern, sepia-toned portraits of ancestors survey the visitors. Turners.ca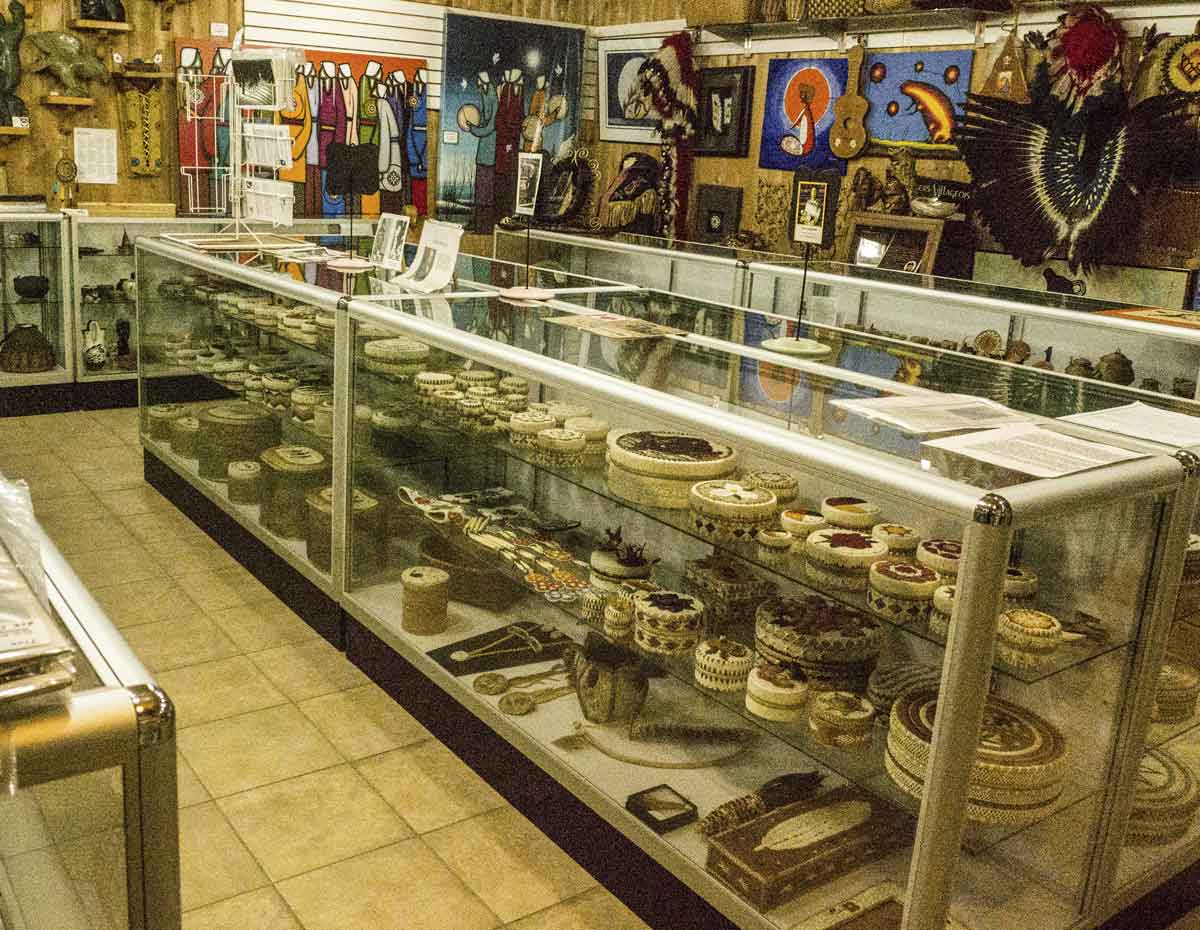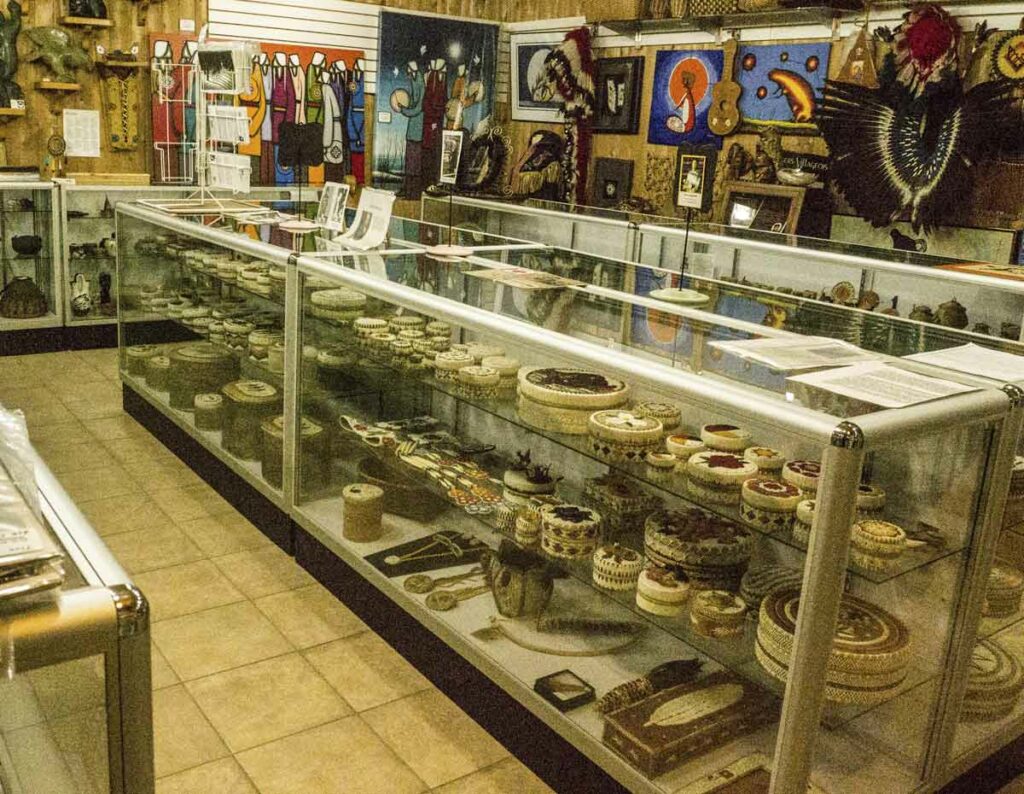 In M'Chigeeng First Nation, the Ojibwe Cultural Foundation's small museum makes a big impression. Striking exhibits and artworks encircle the room, highlighting the art, customs, traditions and ways of life of the Anishinaabek – the Odawa, Ojibwe and Potawatomi of Manitoulin Island and the Great Lakes region. The gift shop displays many works made by artists in the community. OjibweCulture.ca 
Also in M'Chigeeng is Lillian's Quillbox Museum, the extraordinary collection of Lillian Debassige, amassed over 70-odd years and displayed in a big room at the back of her store, Lillian's Crafts. Anishinaabe art dating to the 1940s is arrayed from floor to ceiling: rare ash baskets and intricate quill boxes by noted artists of these media. Contemporary works of Leland Bell and Stan Panamick, pottery pieces by Carl Beam and David Migwans and many handcrafted curios round out the collection. facebook.com/lillianscrafts
In an airy third-floor loft in Gore Bay's Harbour Centre, the waterfront satellite of the beautiful Gore Bay Museum in town, the William Purvis Marine Centre houses a huge collection of Great Lakes marine memorabilia. The Centre features an archive of 17,000 slides and 20,000 prints, a gallery of original log books, ships' wheels, lanyards, photos, flags and finely handcrafted model boats. GoreBayMuseum.com/marine-museum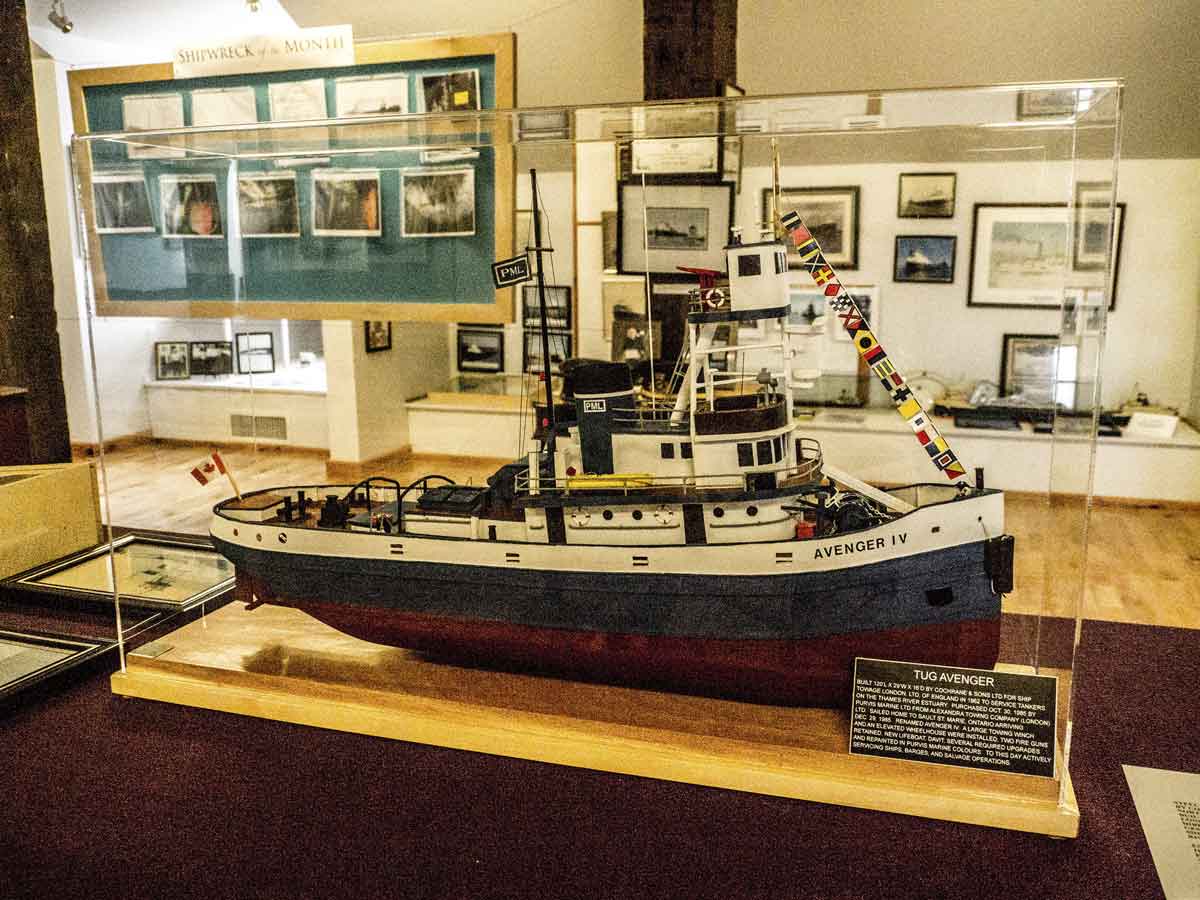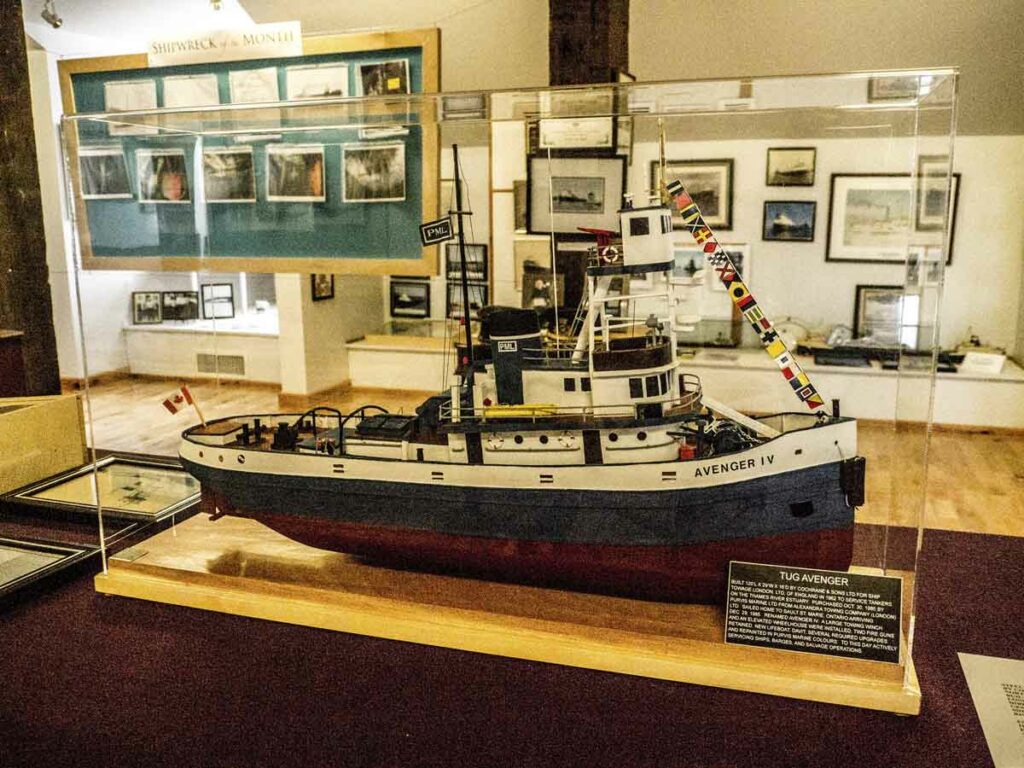 Outside Mindemoya's Welcome Centre with its compact modern museum of fascinating times past, the Pioneer Museum spills out onto the leafy grounds to an authentic 1921 barn sheltering early sleighs and carriages, and a blacksmith's log smithy. A covered bridge lined with the family trees of the founders of the central townships and a furnished, tiny log cabin from 1867 are moving reminders of a simpler life filled with mighty struggles. Central Manitoulin Welcome Centre and Pioneer Museum Tel: 705-377-4383.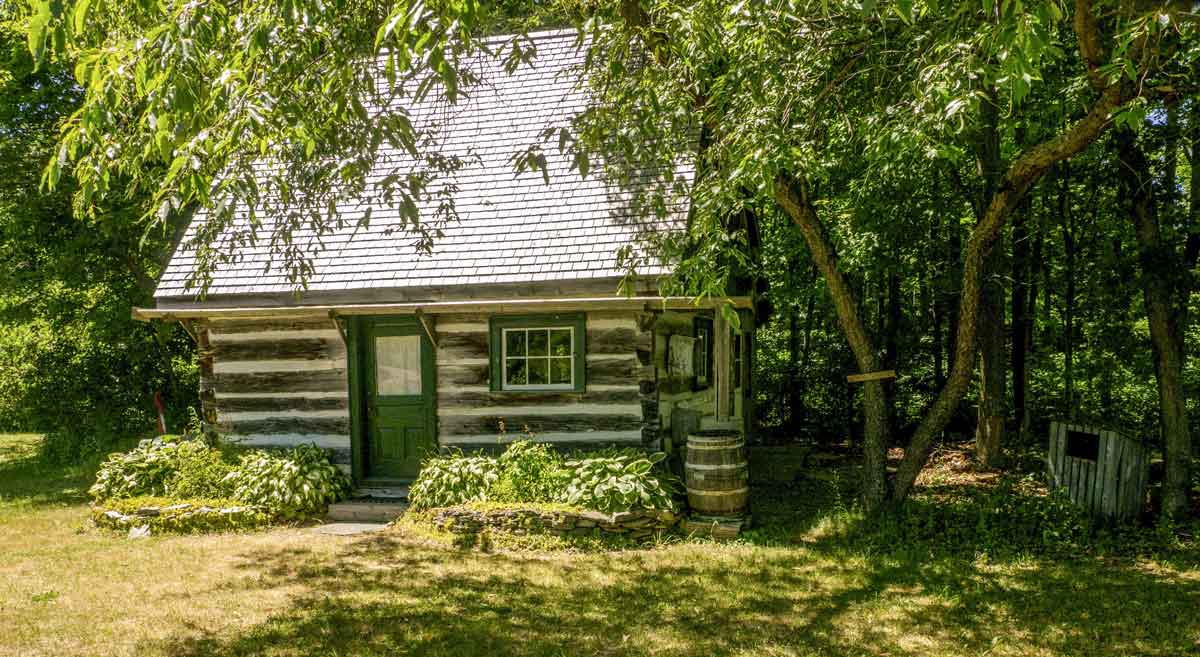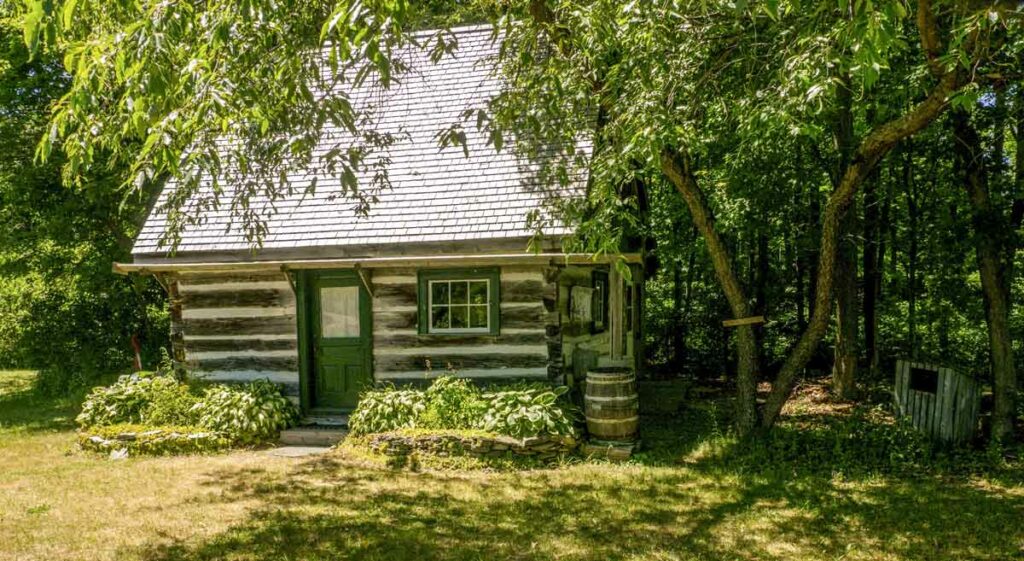 For fans of Jack's Agricultural Museum, also in Mindemoya, it is now closed but the rare collection of pre-war farm implements and machinery that Jack Seabrook amassed in his lifetime could be moving to another location. (The collection contains one of every model of Massey-Harris tractors manufactured by that once-famous Canadian company.)
Within sight of the ferry docks in South Baymouth, the Little Schoolhouse and Museum's main, modern building includes recovered artifacts from the 'ghost town' of Michael's Bay.
The mini-museum is right next door: the Little Schoolhouse, red wooden siding trimmed in white, built in 1891 and in use until the 1960s. An authentically furnished one-room schoolhouse, it's exactly as experienced by generations of Manitoulin schoolchildren: rows of small wooden desks, blackboards with cards of cursive writing, a wall-sized world map, a woodstove and creamy globe lamps hanging overhead. The Little Schoolhouse and Museum Tel: 705-859-3663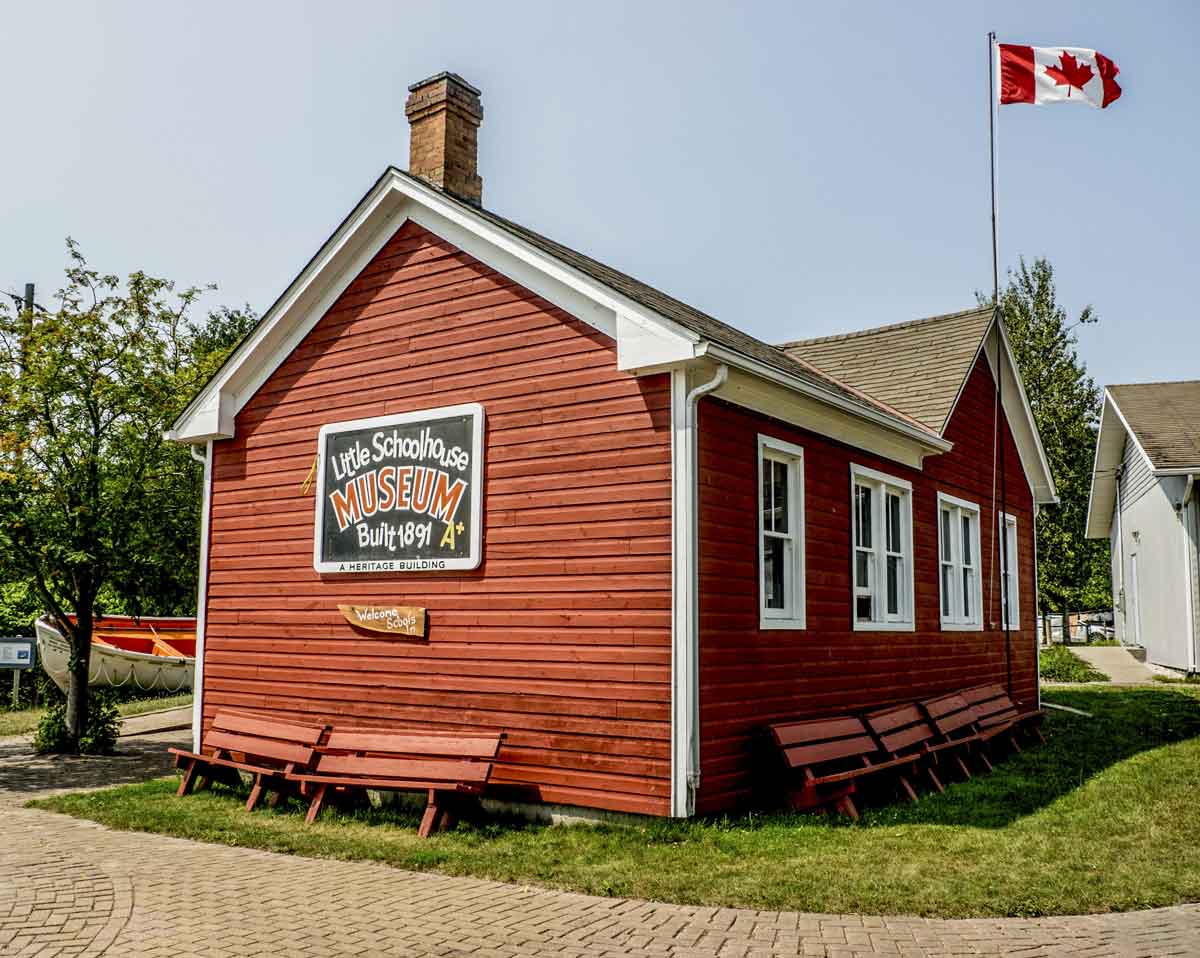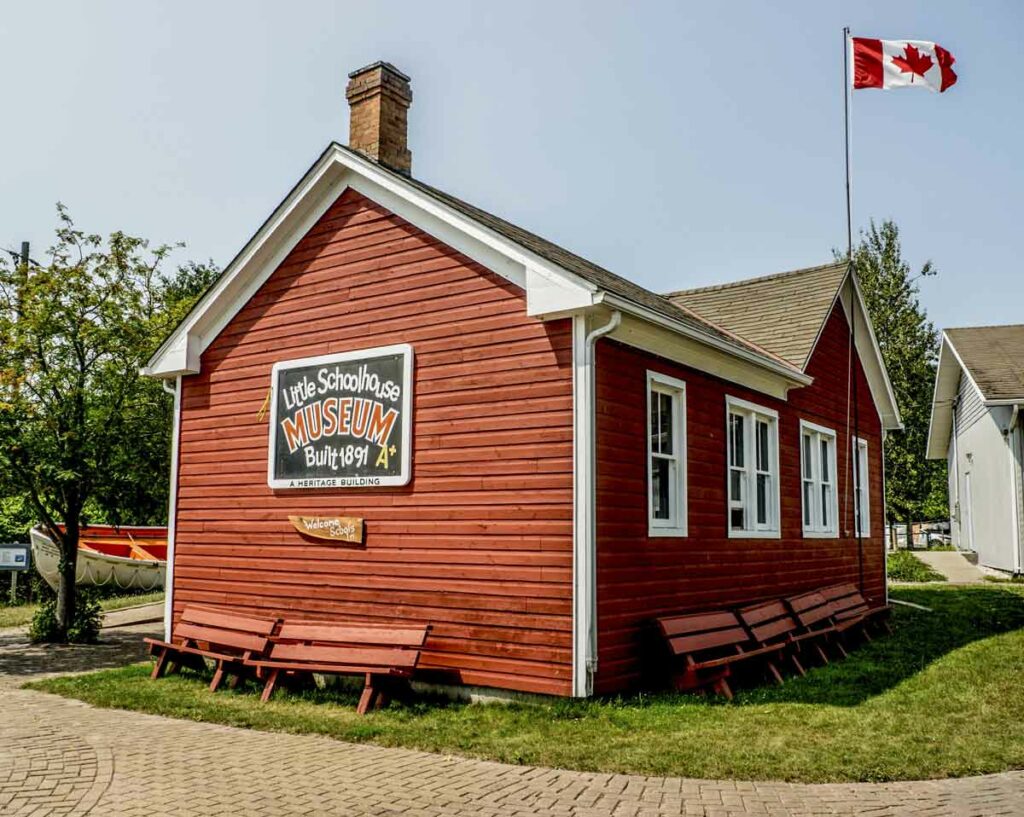 The Centennial Museum of Sheguiandah offers a sweeping survey of this area's origins, beginning with prehistoric stone tools carbon-dated to 10,000 years ago. Excavated from a quartzite outcrop nearby, they confirm quarrying by the first humans on Manitoulin after the last Ice Age.
The mini-museums are scattered among the several settler log cabins that dot the gorgeous grounds; one building serves as a hangar for the remains of US President Franklin D. Rooselvelt's communications floatplane. In 1943, on a one-week "top-secret fishing vacation" off Birch Island, the President relaxed before his famous meeting with Winston Churchill in Quebec. The floatplane, rumored to carry twice-daily mail and classified dispatches to the wartime president, caught fire and sank in the North Channel, where it remained for nearly 50 years before coming to rest in this peaceful glade.
The largest of the mini-museums here is the entire village of Sheguiandah! A free museum map highlights many original buildings, all now bearing historical markers. The Sheguiandah archeological site is a National Historic Site of Canada, as is the ancient habitation area that encompasses today's village. TownOfNemi.on.ca/places/museum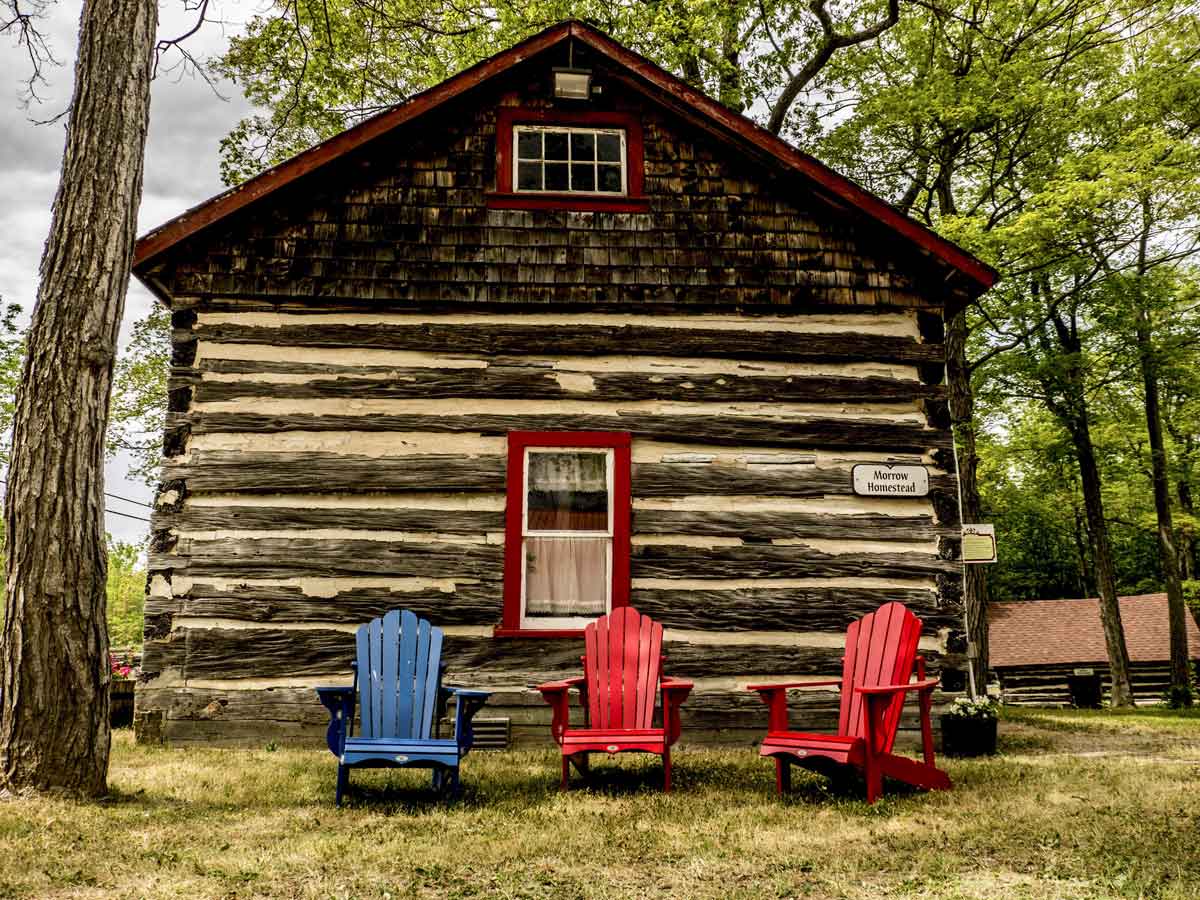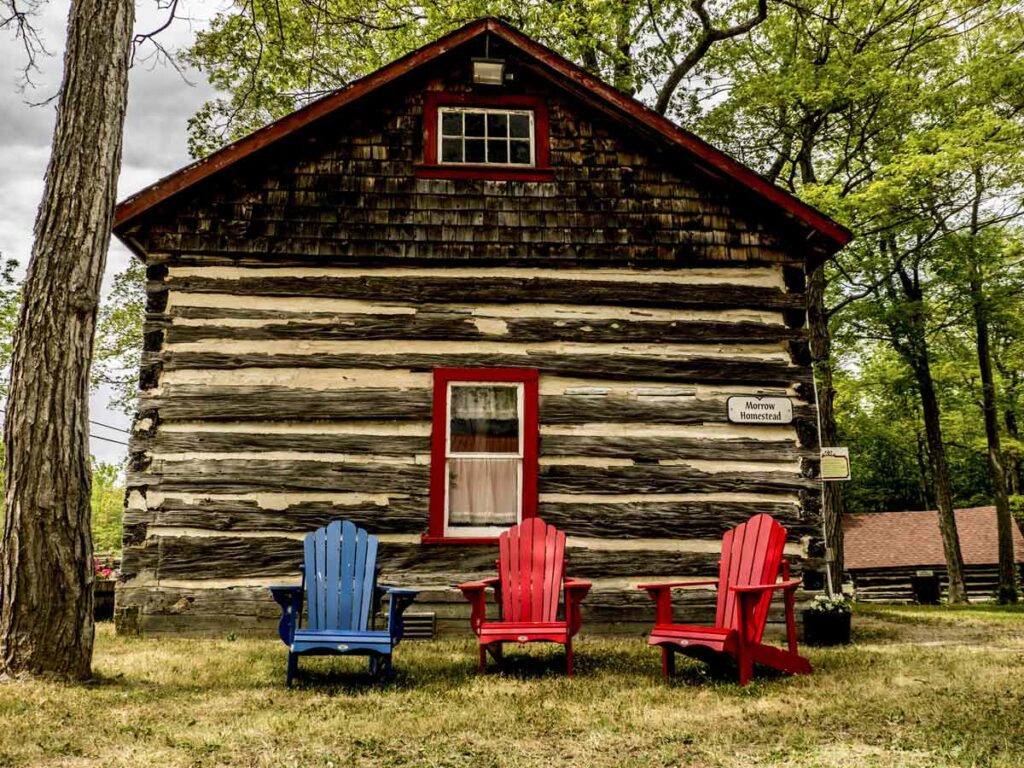 The Assiginack Museum and Heritage Complex started life as a 'lockup' and jailer's home in 1878. Now complemented by temperature-controlled exhibition and research facilities, the Museum collections feature scale model boats of Jacob Shigwadja, taxidermy, children's toys and early 20th century china and glassware.
The mini-museums outside among the picnic tables include a restored one-room log schoolhouse (1878), a driving shed and a blacksmith shop; One tiny whitewashed log cabin, belonging to Philomene Lewis, was moved here from Wiikwemkoong, splendid in its simplicity.  Assiginack.ca/assiginack-museum-heritage-complex