By Isobel Harry, This is Manitoulin April 2020
The indefatigable cheerleader of all things healthy, fun and affordable on two wheels, Maja Mielonen, president of Manitoulin Island Cycling Advocates (MICA), has three words for the previous season of MICA's curated bicycling activities: "Best summer ever!" 
Based in Central Manitoulin on Mindemoya's main street (along with Maja's little bistro, home of Gourmet Garden Gigs in summer) and supported by member-owners of Island businesses of all types and by many volunteers, MICA has expanded and refined its menu of cycling offerings over 10 years as a non-profit organization.
Riders can choose the annual Passage Ride (June 6-7, 2020) – free ferry, three Island bike routes, two nights' accommodation (pre-booked by the participants), luggage shuttle, mechanical breakdown assistance, aid and snack stations, dinner and entertainment on Saturday and lunch on Sunday – or head out on a self-guided tour with MICA's handy Cycling Routes and Road Map, now in its fifth edition, available for $2 on the website.
"The Passage Ride travelled to Little Current last year for the first time using the paved shoulders of Highway 6," says Ms. Mielonen. "The tour was a hit with the 240 cyclists – the hotels were sold out in town, we featured local foods and drinks to showcase Manitoulin and involved as many MICA members as possible." MICA members are Island businesses and institutions that are 'bike-friendly' – welcoming riders with bike racks, for example, at their accommodations, restaurants, shops and cultural spaces.
New since 2016 are MICA's Alvar Cycle Tours, five days of riding and four nights in lakeside accommodations in June and September. "We were sold out, all four Alvar tours with 12 riders each, touring galleries, farms, museums, fisheries, cultural sites. Everything's pre-paid, accommodations, meals, it's an all-inclusive vacation – riding, eating and sleeping is all you have to do." Thirty spots were already booked last fall for this year's Alvar Cycle Tours.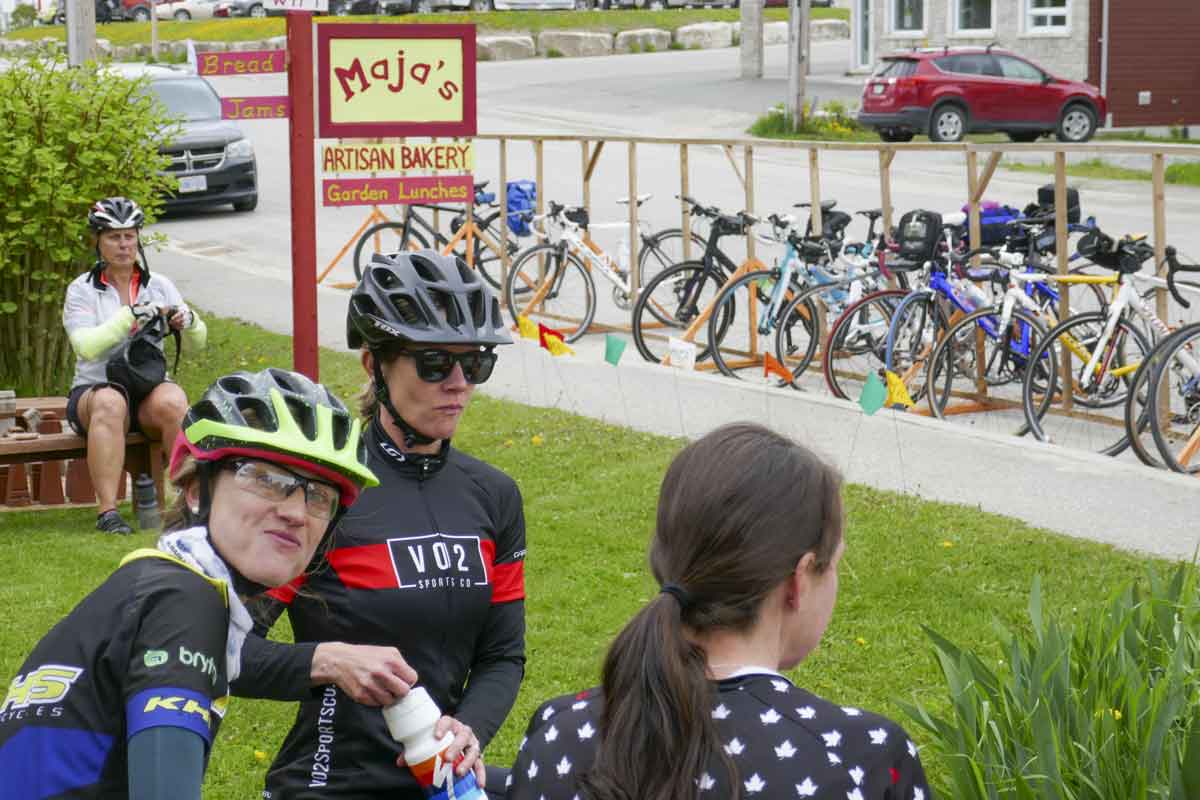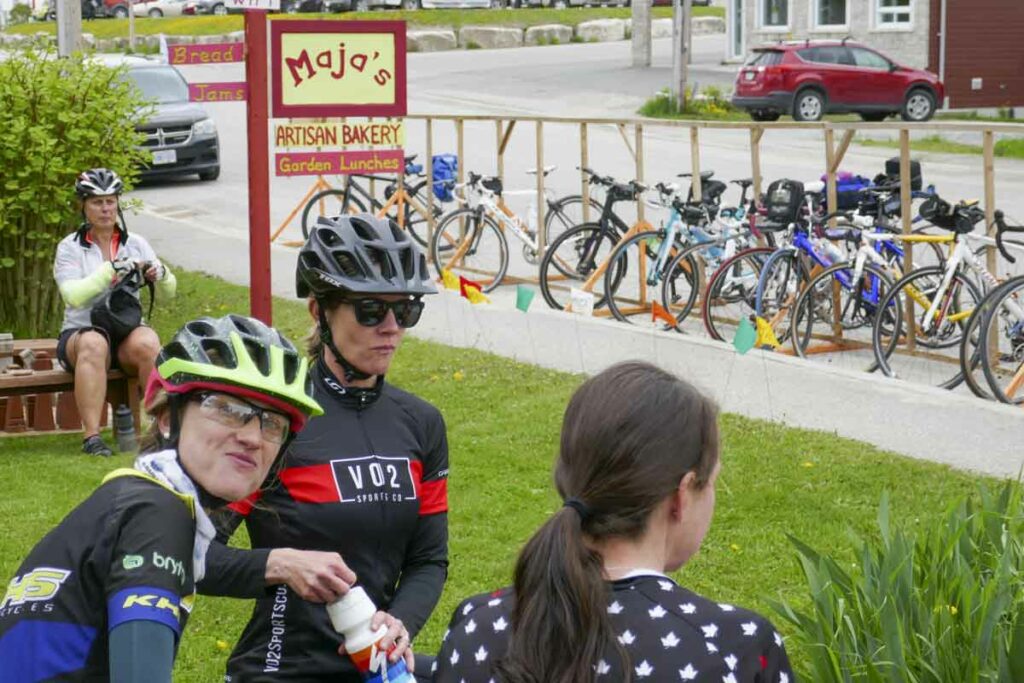 A large part of MICA's mandate is to raise awareness of the benefits of all those quiet cyclists pedaling through Island communities while visiting shops and restaurants and staying in campgrounds, motels and cottages. MICA received unanimous support from all Island municipalities to its proposal for them to consider including a mobility plan in their strategies for roads, parks and buildings: "Often," says Ms. Mielonen, "pedestrian safety is not sufficiently included. Good planning is making streets safe for all road users between eight and 80." Since there are now more safe routes for cyclists, Ms. Mielonen has noticed an increase in Island residents and schoolchildren using bicycles to get around.
In 2018, after research into the Island's most peaceful, scenic back roads, MICA, in partnership with Destination Northern Ontario and FedNor, distributed 60 'Bike Route' signs, posts and a small fee for each installation to all municipalities (except Dawson at the western end of the Island), and erected eight trailhead kiosks. A ninth was announced in the fall – located in Tobermory on the Bruce Peninsula. It gives a sneak preview to cyclists, hikers and other tourists of what to expect when they make the ferry crossing to the Island. The new trailheads allow people to park their cars and ride off on their bikes along routes clearly marked on the large trailhead maps and the Bike Route signs, in their simple green and white splendour, invite riders to explore some of the loveliest land- and waterscapes in Northern Ontario.
MICA's tireless networking, promotion and activism since their founding in 2010 are the pillars of the organization, encompassing working for better road conditions for cyclists, including MICA's spectacular impetus in convincing the Ontario government to pave the shoulders of three out of the four Island highways. It involves linking with other regional bike routes, such as the Lake Huron and the Georgian Bay routes that now cross Manitoulin, eventually with the potential to connect internationally to US bike routes. MICA's lobbying, community outreach and regional and provincial networks are intrinsic to its holistic vision for cycling tourism on the Island.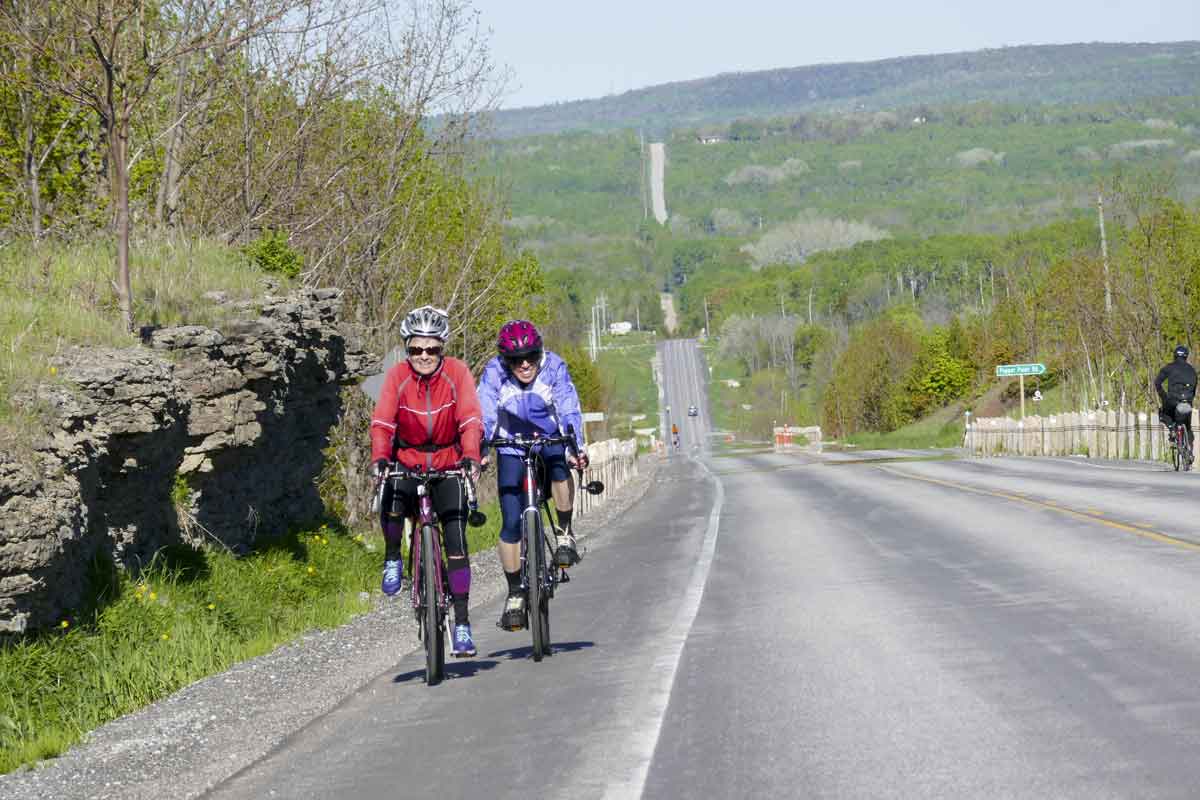 MICA's original dream for the 1,000 km Georgian Bay Cycle Route concept to include Manitoulin is complete (and nearing completion between Sudbury and Muskoka), signed by the Waterfront Regeneration Trust as part of the Great Lakes Waterfront Trail (GLWT).
Recently recognized by peer organizations at the Share the Road Cycling Coalition's Share the Road Bike Summit in Toronto, MICA was presented with the 2019 Wheels of Change 'Organization of the Year' Award. The GLWT also praised MICA for establishing a loop through Manitoulin, thus becoming part of the 3,000-km cycling network, and for their many accomplishments on behalf of better cycling.
MICA's efforts have brought back an old pastime to the Island, one custom-made for tranquil enjoyment of its natural, historical and cultural attractions, friendly folk and of Manitoulin's undeniable magic. And for getting from A to B. Celebrate the summer season and saddle up!
Manitoulin Island Cycling Advocates
6152 Hwy. 542, Mindemoya 
ManitoulinCycling.com 
manitoulincycling@yahoo.ca