Less than two miles long and mile at its widest, Big Lake is, well, actually quite small. But it's an attractive lake, its shoreline fringed with leafy hardwoods and scalloped with a couple of small sand beaches.
Less than two miles long and mile at its widest, Big Lake is, well, actually quite small. But it's an attractive lake, its shoreline fringed with leafy hardwoods and scalloped with a couple of small sand beaches.
Drive east of Mindemoya on Highway 542 and you'll soon see the lake on your right. Lake Manitou is quite close at this point, just a few hundred yards to the north beyond the red barns of the old Dryden farm.
Given its proximity to Manitou, the biggest lake on the Island, the name seems particularly ironic. Did someone name it Big Lake as a joke? Or was there, perhaps, a mistake made here?
The late Marjorie Young, a resident of the lake for many years, suspected it was the latter. "What I've always heard is that Manitou was supposed to be Big Lake, and Big Lake was supposed to be Manitou," she once said.
It seems inconceivable that a surveyor or cartographer could confuse the two, but who knows, bigger blunders have happened. Were it not for a railway planning faux pas, the city of Sudbury probably would have taken root in the deep, level soil of the valley to its north, rather than been plunked on a heap of rock where explosives are required if you want to have a basement.
If the names really were inadvertently switched, it stands to reason that Big Lake must have held a special significance for the local first nations people as the name "manitou", meaning a spirit or deity, and is not one to be tossed around lightly. Determining whether Big Lake had that sort of importance and mystique for the local Ojibwe is difficult, however; as there hasn't been a native presence on Big Lake in many years, and no lore seems to have been passed along concerning its role in the lives of earlier Ojibwe.
Today, Big Lake is a quiet but fairly developed lake, with many cottages, a dam at one end, and almost all of it encircled by roads.
As recently as 50 years ago, however, there were few roads and just two modest resorts. "When I first came here (early 1950s) there was just Maple Grove Cottages and Coventry's Cottages, "recalled Mrs. Young.
At that time, Mrs. Young lived in Ohio, and had come to stay at Maple Grove with some friends. It was here that she met her future husband Kenneth, whose parents Digby and Lena were the owners of the resort. The two married in 1955, and Mrs. Young had lived on Big Lake until her passing.
Maple Grove continues to operate as a resort, but under new owners, a young family translated from South Africa, while Coventry's is now a private residence. Meanwhile, dozens of cottages, as well as a few homes, have sprouted on the shoreline.
There have been other changes, too. "When I first came here, you could see rock and beach stretching way out, and now the water's right up against the shore," remarked Mrs. Young. The reason for the higher water is a dam that was constructed in 1959 at the southwest end of the lake, where a creek flows towards Mindemoya, sometimes flooding the village in the spring.
But while the water level has gone up on Big Lake, the fish population has gone down. "there used to be really good pike fishing in there, but it went downhill from overharvesting," notes a year-round resident.
The late Bert McKenzie of Tehkummah, recalled at one the time pike literally overspilling the banks of Big Lake. He had worked on the highways, and one spring they had to get out of the trucks and kick the pike off the road. The water had flooded the road, leaving a bunch of spawning pike in the path of the road crew.
During Mr. McKenzie's life he recalled taking a boat out on Big Lake and then dragging it over to Pine Lake, which is just a couple hundred yards south of Big Lake, to go fishing and duck hunting.
Around that time, there was an eccentric loner who lived on Pine Lake, the old fella came from England and lived like a hermit. The only time the English recluse was seen was when he'd walk out to old Ward's house to get bread, otherwise he was a hermit who lived off the land at Pine Lake, fishing and hunting, keeping a few cows. He died out under a tree.
After hearing the story, I decided I should probably check out this Pine Lake to see if any contemporary hermits, possibly descendants, were hanging out on its shores.
While in McKenzie's day you had to cross Big Lake in a boat and then drag it across the "narrows," as they called the strip of land, you can now drive to Pine Lake on the Big Lake Dam road, which made my mission considerably easier.
I turned off on this dirt road, briefly checked out the dam, which provides a nice view of the lake, and continued on, passing a bunch of cottages, many of them rustic log buildings.
One in particular caught my attention, because of the sign above its door, which read: "Big Lake Yacht Club." I stopped my vehicle, jumped out, and wandered down to meet the yacht club owners.
The sign, they explained, was created for a float that a group of playful Big Lake cottagers contributed to the Mindemoya Homecoming parade over 35 years ago. It subsequently adorned other floats that participated in the Providence Bay parade.
At the "narrows" leading to Pine Lake, the Cooper family had helpfully built a "bridge" out of wooden pallets to span the swampy ground between the cottage road and the lake. I walked across the bridge and stood on the shore of small, shallow Pine Lake. I didn't see many pines (probably logged out a century ago), nor did I see any hermit dwellings. But it did look like a good place to hunt for ducks.
Having found Pine Lake, my next mission was to find the public beach on Big Lake which I had been told about. I'd forgotten the name of the sideroad he mentioned, though, so after driving back out to Highway 542 and heading east, I just started turning off onto any road that seemed to lead to Big Lake.
I did see a sand beach, but the landowner politely told me the public one was on the other side of the lake.
Pike were plentiful in the old times, and at one time you could catch musky (planted ones) in Big Lake.
While pike are scarce, bass still frequent the lake in decent numbers. According to the year-round resident I befriended, one of his neighbours on Big Lake recently hooked a 9-pound smallmouth.
Why not visit these nearby businesses?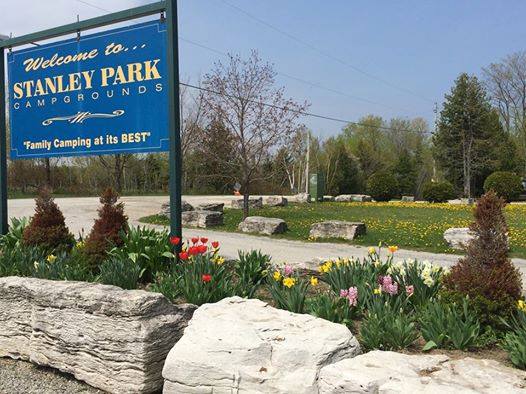 Stanley Park Campgrounds Lake Mindemoya Beautiful campsites for trailers and tents on Lake Mindemoya's southwest shoreline. This central location is…
The lake is quite shallow, with weed beds here and there, even in the very middle. Estimates are that greatest depth is a mere 20 feet. (And that's since the dam was created to bring the level up.)
I asked about the public beach, and was told me the way to reach it is via Myles Side Road. I thanked him and jumped back in my car.
It was a roundabout way to get there. You have a to drive a few miles away from the lake on Highway 542., then double back towards it on Myles Sideroad.
But it was worth it. The beach was devoid of swimmers when I visited. It also wasn't very big, just a tiny crescent of sand, a few reeds growing at its edges, and a picnic table whose legs were leaning on a wicked angle, as if it had been partially flattened by a tornado.
Yet it struck me as all the more appealing for these very reasons. It was out-of-the-way, rarely used, private. Private yet public (the property is owned and maintained by Central Manitoulin.)
I didn't go for a swim, as the waves were pounding in, and the sun had disappeared behind some clouds. But I did appreciate the view from this pretty, obscure, unadvertised spot.
Maybe it's not a mistake it got named Big Lake after all.
There is a boat launch just off Highway 542 where the road skirts the lake's north end. It's located at the west (Mindemoya) stretch of lakefront highway.